Home
→
News
Preliminary study urges new jail for Lucas County
The current Lucas County jail is not worth saving and a new facility is needed, according to a preliminary feasibility study that was presented to The Blade on Wednesday. The downtown pretrial facility is perpetually overcrowded and oftentimes in need of repair, which makes remodeling and expanding the jail impractical, the study concluded.
3 hours ago
---
State
Judge: Ohio to honor gay marriages
Ruling on legal same-sex unions will remain on hold while state appeals.
Local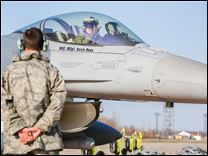 Base's local relationship solid
180th Fighter Wing's new commander: Community ties are clear.
2 hours ago
Local
419 Day right around the corner
Northwest Ohio event offers specials, entertainment.
5 hours ago
---
More News→
Loading Videos....
Keith Burris
Zealous prosecutors worse than shady pol...
Governor offers lesson in how government criminalizes politics
Keith Burris
An economist tells it like it is
Kate Warne is frank and right on the money.
Keith Burris
A saint with impeccable comic timing
Father Boyle shares his secret during stop at Lourdes.