Home
→
News
New Lucas County jail plan addresses mental health
A proposal to construct a new Lucas County jail wouldn't just include a larger facility that would house more inmates — it would be accompanied by a community plan to treat mentally ill inmates and those with substance-abuse problems. The new jail feasibility study was presented Thursday to the Lucas County commissioners.
---
Police & Fire
50 attend heroin-related training
Law enforcment officers taught how to deal with epidemic
15 hours ago
Education
Zuber resigns from school board
Resignation puts end to 17-year run with Washington Local district.
Police & Fire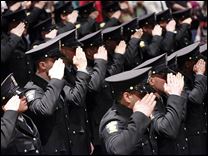 A salute to TPD recruits
More than 70 comprise one of largest classes in recent years.
13 hours ago
---
More News→
Loading Videos....
Jack Lessenberry
The high cost of running for Congress
Michigan is more expensive than most other states.
Keith Burris
Zealous prosecutors worse than shady pol...
Governor offers lesson in how government criminalizes politics
Keith Burris
An economist tells it like it is
Kate Warne is frank and right on the money.