Home
→
News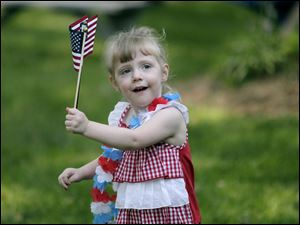 Taking the pledge on U.S. birthday
After more than 20 years without a country to call their own, a Bowling Green couple couldn't be happier to be counted among the ranks of new American citizens. Pramila and Narayan Sharma took their oaths of citizenship together Saturday at Sauder Village in Archbold. In all, 44 people representing 22 countries on four continents became new citizens on the village's shady central green.
11 hours ago
---
Politics
Finkbeiner focuses on past
Former mayor remembers shielding city from worst effects of recession.
Politics
GOP pushes back
Republicans block union organizing 'efficiency' efforts.
Local
Patriotic crowds fill riverside
Event features music, fireworks.
16 hours ago
---
More News→
Loading Videos....
Keith Burris
Going green
A week in an electro cruiser.
Marina Bolotnikova
Where are pro-choice voices?
Statehouse strips abortion rights.
Jack Lessenberry
Food imports should have been scrutinize...
Indeed, a majority of seafood is imported.