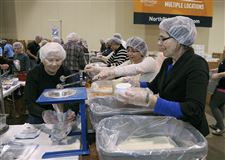 Members of NorthRidge Church pack food for malnourished children in Novi, Mich. The 2 million meals will be sent to El Salvador, Haiti, and the Philippines.
ASSOCIATED PRESS Enlarge
OVI, Mich. — They came from all walks of life — Girl Scouts troops, National Guard units, financial planning offices, Zumba classes — to spend three days packing food for thousands of hungry children they'll never meet.
The 2 Million Meals effort, the brainchild of a Detroit-area pastor, concluded Sunday.
The results: 8,810 volunteers put together 2,029,536 meals to be shipped to El Salvador, Haiti, and the Philippines.
The mixtures of rice, soy, dehydrated vegetables, and 21 vitamins and minerals will provide one meal a day for a year to 5,560 children.
"The truth is, this has been an amazing experience because of the impact it's going to cause in the lives of every child and every person who's going to eat these meals," said Brad Powell, who heads up NorthRidge Church.
Mr. Powell led an effort three years ago in which 5,000 volunteers packed 1 million meals over the same time period at an area middle school.
Convinced more could and should be done, Mr. Powell dreamed of doubling that effort. That vision became a reality on Sunday.
Volunteers worked 11 sets of two-hour shifts from Friday to Sunday at the Suburban Collection Showplace, a convention center in Novi, which donated 65,000 square feet of space.
Also on board was Feed My Starving Children, a Coon Rapids, Minn., nonprofit that sends volunteer-packed meals across the globe.
NorthRidge members paid for the meals themselves, raising $440,000 mostly through Christmas offerings at the church, which is one of the largest in the United States.
The nondenominational Christian church draws an average of 9,600 worshippers each weekend.
Packing station volunteers cheered when they reached a certain number of meals. The hooting and hollering could be heard, barely, over the nonstop barrage of music.
Sgt. Stacy Price, 43, worked alongside a handful of his fellow soldiers from a nearby Army National Guard unit, which saw 2 Million Meals as a chance to give back as well as a valuable team-building exercise.
Guidelines: Please keep your comments smart and civil. Don't attack other readers personally, and keep your language decent. Comments that violate these standards, or our privacy statement or visitor's agreement, are subject to being removed and commenters are subject to being banned. To post comments, you must be a registered user on toledoblade.com. To find out more, please visit the FAQ.