Home
→
News
U.S. clears officer in Ferguson case, criticizes police
The Justice Department won't prosecute a former Ferguson, Missouri, police officer in the shooting death of an unarmed black 18-year-old, but in a scathing report released today faulted the city and its law enforcement for racial bias and unconstitutional practices.
9 hours ago
---
Local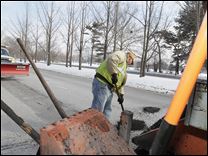 House OKs $7B transportation budget
Ohio House plan includes task force to assess repairs.
Local
Steel named council president
Harper withdrew from consideration for seat held by Hicks-Hudson.
News
Lucas Co. pulling out of area jail
Billing changes too costly for facility, officials say.
---
More News→
Loading Videos....
Keith Burris
A lesson in Toledo democracy
At a time when the city needed statecraft, it got burlesque.
Keith Burris
Contest for council chief one of mettle
Choice of Steel is serious conflict of interest, bad government.
S. Amjad Hussain
Advertising health-care rates is refresh...
Practice should extend to rates for all other services in our area.