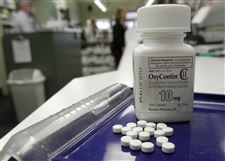 OxyContin pills are arranged for a photo at a pharmacy in Montpelier, Vt. Drug-overdose deaths rose for the 11th straight year, federal data show, and most of them were accidents involving addictive painkillers despite growing attention to risks from these medicines.
ASSOCIATED PRESS Enlarge
COLUMBUS — Ohio awarded $10 million in grants Thursday to six companies and a university that have come up with innovative scientific ideas to address the national opioid epidemic.
The Ohio Third Frontier Commission awarded the grants for ideas that include development of pain-management alternatives and a mobile app to improve addiction treatment.
RELATED: Opioid death trends in area match state | Toledo sues opioid manufacturers, distributors
The seven grant winners emerged from a field of 44 initial projects submitted by hospitals, universities, and various medical devices, software and pharmaceutical developers. About $2 million less was awarded than the commission had made available.
The state is energized as its efforts progress, said commission chairman David Goodman
"We put out the call for promising technology that could help combat the national opioid problem," he said. "We're excited about how these innovations might be part of the solution."
The grant competition is part of a two-pronged strategy the state is using to drive innovative research and development in opioid and addiction science.
The second element is an $8 million Ohio Opioid Technology Challenge, a competition modeled after the Head Health competition launched by the NFL, Under Armour, and GE to address traumatic brain injuries. State officials were generating ideas for the contest Thursday with a Tech2025 hackathon event in New York.
EDITORIALS: Educators are key players in opioid battle | Opioid crisis reaches into the workplace
The efforts come in a state among the hardest hit by the deadly opioid epidemic. There were 4,050 overdose deaths in Ohio last year, many linked to heroin and synthetic opioids like fentanyl.
Among Ohio's grant recipients are Cleveland-based Sober First LLC, Lyndhurst-based Innovative Medical Equipment, Columbus-based Sollis Therapeutics, and the University of Akron.
Guidelines: Please keep your comments smart and civil. Don't attack other readers personally, and keep your language decent. Comments that violate these standards, or our privacy statement or visitor's agreement, are subject to being removed and commenters are subject to being banned. To post comments, you must be a registered user on toledoblade.com. To find out more, please visit the FAQ.