MORENCI, Mich. — Residents of this small Lenawee County city reacted with a renewed hope for closure Friday following another potential update in the 2010 case of three missing boys.
Michigan State Police continued working with Missoula, Mont. law enforcement after the September discovery of a box containing human remains. They recently learned the children were of about the same age as three boys who disappeared from Morenci, Mich.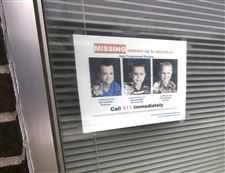 A sign of the boys on the window at the Jeffrey A. Robichaud, D.D.S. dental practice in Morenci, Mich., on Friday. Three bodies discovered in Montana are a possible lead in the case of the three Skelton boys, of Morenci, who have been missing since 2010.
THE BLADE/KURT STEISS
Enlarge | Buy This Image
The wait for forensic testing results can be up to four to six months. Investigators have so far received about 2,000 tips, including multiple cases of discovered bones, Lt. Jeremy Brewer said.
Nothing about this tip is unusual, he said.
"It's a little interesting, but the finding of human bones and remains is not uncommon," Lieutenant Brewer said. "We don't want any false sense of hope."
A person associated with the case forwarded to police the article from a Montana publication. It then gained traction on social media, he said.
Andrew, Alexander, and Tanner Skelton were last seen in their father's backyard on Nov. 26, 2010. The boys were 9, 7, and 5 years old at the time, respectively. John Skelton was going through a divorce from their mother, Tanya Zuvers.
The bones are from three children believed to be between 2 and 4, 5 and 8, and 6 and 10 years old at the time of their deaths. The sex of the children is not yet known.
Ms. Zuvers did not return a message seeking comment. Her ex-husband is locked up in the Bellamy Creek Correctional Facility in Ionia, Mich. for convictions on unlawful imprisonment of others. He was sentenced to 15-20 years in prison, and the earliest he could be released is 2020.
Reporters from Toledo and Detroit conducted interviews across Morenci, a city of about 2,200 people. Residents said they wish for a resolution after this lengthy investigation.
Joe Farquhar was among the dozens who filled buses and searched for the boys seven years ago. If it were his three young grandsons, he knew others would do the same.
Mr. Farquhar, who owns Rural-Urban Insurance Agency in downtown Morenci, grew up in the city. This crime still resonates strongly here, he said.
"There's lots of bad things that happen, a lot of deaths, but three little boys and a father in a small community? That's something people aren't going to forget," Mr. Farquhar, 66, said.
Melissa Gill, 48, has lived in Morenci for about a year. In that time, she has repeatedly heard about the case.
It is too early to assume the recovered bones are connected, Ms. Gill said. And if not, it still appears the Montana case may involve victimized children, she said.
"It's three children that they found who are dead. Let's figure out who they are before we assume it's the Morenci boys all the way in Montana," she said.
Brenda Stevens, 56, said for three children of about corresponding age to appear in the same location would be such a large coincidence.
Ms. Stevens has a son who works regularly with Ms. Zuvers. She said Ms. Zuvers, even on a good day, clearly feels sadness and uncertainty.
"I feel like she deserves to have a place where she can take flowers, a place where she can sit and grieve, a place where she can visit her boys, rather than them just being out there somewhere," Ms. Stevens said.
Police urge those with tips contact them at michigan.gov/michtip or 517-636-0689.
The public is also invited to a previously scheduled prayer service for the boys from 3 to 6 p.m. Sunday at the former Delphi Methodist Church, 628 U.S. 224 in Delphi, Ohio.
Contact Ryan Dunn at rdunn@theblade.com, 419-724-6095, or on Twitter @RDunnBlade.
Guidelines: Please keep your comments smart and civil. Don't attack other readers personally, and keep your language decent. Comments that violate these standards, or our privacy statement or visitor's agreement, are subject to being removed and commenters are subject to being banned. To post comments, you must be a registered user on toledoblade.com. To find out more, please visit the FAQ.