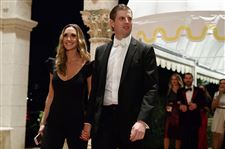 Eric Trump and his wife Lara Trump arrive for a New Year's Eve gala at Mar-a-Lago resort, Sunday, Dec. 31, 2017, in Palm Beach, Fla.
ASSOCIATED PRESS Enlarge
Lara Trump will visit Toledo and the Bowling Green area next week for a pair of reception events.
State party officials announced Ms. Trump will join Republicans on Tuesday to rally support for candidates. Ms. Trump is the daughter-in-law of President Trump.
Ms. Trump will speak during a noon luncheon and program at CMC Group, 12836 S. Dixie Hwy. Tickets are $50 per person.
She will later attend a 5:30 p.m. private sponsor roundtable and 6 p.m. program at the Toledo Club. Tickets are $250 per person or $300 per couple.
Guidelines: Please keep your comments smart and civil. Don't attack other readers personally, and keep your language decent. Comments that violate these standards, or our privacy statement or visitor's agreement, are subject to being removed and commenters are subject to being banned. To post comments, you must be a registered user on toledoblade.com. To find out more, please visit the FAQ.