Kingston is as sad a creature as any the Lucas County Pit Crew has seen recently.
"He looks bad, really bad," Jean Keating, executive director, said. "He looks like he's just defeated. He looks like he doesn't even care anymore."
The rescue took in the mastiff mix Monday from the Lucas County Canine Care & Control where he had been turned in as a stray Thursday. He was found by a resident on Mulberry Street in North Toledo.
Kingston, estimated at 8 to 10 years old, is severely emaciated and suffering from chronic dermatitis with hair loss over much of his body. He weighed 53 pounds and could barely walk when he arrived at the county shelter. Director Richard Stewart said he would expect the dog to weigh at least 80 pounds.
"It's going to be a long haul for him to get back to what he should be," Mr. Stewart said.
Kingston is notably depressed. When Ms. Keating met him for the first time over the weekend, he showed no interest in socializing.
"I'm trying to interact with him and he gave me about a 15-second look before he went right back to staring at the wall," she said.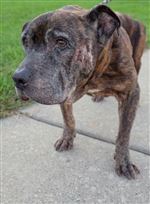 Kingston, an emaciated mastiff mix, is picked up by the Lucas County Pit Crew at the Lucas County Canine Care and Control in Toledo. He has hair loss, scars and has difficulty standing and walking.
THE BLADE/LORI KING
Enlarge | Buy This Image
She's hoping he'll perk up once he's settled into a foster home being cared for and loved on. His will to live may be a determining factor in whether he recovers.
"We've seen a lot in rough shape, but usually they're considerably younger," Ms. Keating said. "Being that emaciated is much more difficult to bounce back from if he truly is a senior. This has clearly been a long-term situation for him to get to where he is."
The county shelter has seen more than a dozen emaciated dogs this summer, Mr. Stewart said. The shelter does not track such cases specifically but he said it does seem to be more than in previous years. The reason why will remain a mystery.
"I don't know that there's one single thing out there causing it," he said. "You just don't know. There are so many ways it can happen."
Kingston is definitely one of the worst the shelter has seen this year, Mr. Stewart said.
Ms. Keating said in his excessively poor physical state, it seems likely Kingston had an owner he escaped from or was dumped. He wouldn't have been wandering long before being spotted.
"This poor guy, he couldn't have gotten far from where he was or someone dropped him off," she said.
The Pit Crew could use donations of canned dog food and dog beds to care for Kingston and others like him. Donations of supplies or funds may be sent to or dropped off at 855 N. McCord Rd., Toledo, OH, 43615. Monetary donations may also be made online via PayPal or at lucascountypitcrew.com.
Contact Alexandra Mester at: amester@theblade.com, 419-724-6066, or on Twitter @AlexMesterBlade.
Guidelines: Please keep your comments smart and civil. Don't attack other readers personally, and keep your language decent. Comments that violate these standards, or our privacy statement or visitor's agreement, are subject to being removed and commenters are subject to being banned. To post comments, you must be a registered user on toledoblade.com. To find out more, please visit the FAQ.