COMMENTARY
Toledo warming to vegan options
8/23/2016
Nearly a year ago, on Aug. 25, 2015, I wrote a column about my belief that Toledo is ready for a vegan coffee shop.
Not necessarily a full vegan restaurant, which is a substantial undertaking, but a small place offering only non-meat, non-dairy, no-egg, no-honey, no-animal-products-whatsoever options like baked goods and other sweets, along with beverages, of course.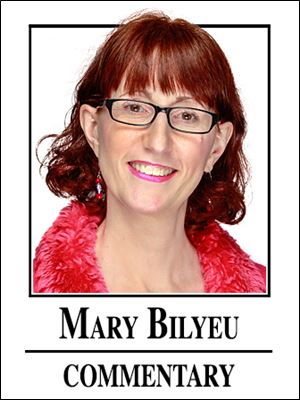 Many people, I think, felt I was asking too much, trying to bring a little bit of Ann Arbor to a city not quite ready for the plant-based lifestyle. We received a call from a reader a few weeks ago, after all, asking for a story about comfort foods like casseroles. No one has yet called asking for a story featuring tempeh. (Please don't – I'm not a fan.)
A discussion ensued last year on Toledo Talk (toledotalk.com) in a post titled "Blade Requests Vegan Coffee Shop." One person called that day's column an "oddball article." Some folks didn't understand that vegan coffee actually meant plain old coffee or coffee with vegan creamers (i.e.: soy or coconut milk). But many were intrigued and encouraging — if not of an entirely vegan place then, at least, of increased vegan options.
I received lots of emails from supporters of the idea, whether they were vegans themselves or they had friends and family members who follow the diet.
"Some think it is only a hippy thing! Believe me, it is not," wrote one 83-year-old widow who'd changed her eating habits after watching the documentary Forks Over Knives, about how health can be improved through dietary choices. Another woman was almost giddy in her enthusiasm, saying that a vegan coffee shop in Toledo "would be like a rainbow! Unexpected and enormously appreciated. ... I would even come out of retirement to work in such a delightful place when it becomes reality."
One couple wrote that, perhaps, a "blended vegan/conventional restaurant would be a way to introduce Toledo's restaurant-goers to alternative diets."
That tactic has been very successful. Vegan options, like a lovely strawberry almond cake, are available at BREW coffee bar. Deborah Norin-Kuehn, featured in a story on today's page, makes sure to include vegan dishes in her weekend brunches at The Flying Joe in Perrysburg, just as Tracy Plumb-Ruiz includes vegan items on her Saturday and Sunday menus each week at Black Kite Coffee and Pies.
Of course, Indian, Chinese, Korean, Vietnamese, Greek, Lebanese, and other Asian, Middle Eastern, and Mediterranean restaurants continue to offer lots of vegan options — lentils, vegetables, chickpeas, and more — among their cuisines' classic dishes, just without advertising it in neon lights. Health food stores and the Phoenix Earth Food Co-op have sold many plant-based items for years as well — long before it became trendy.
In May, Vegan Toledo (vegantoledo.com), a site created by Mike and Rachel Zickar, began sharing information about area dining options, shopping venues, and other resources for those interested in plant-based eating. Search their restaurant reviews by city (listed alphabetically from Bowling Green to "Worth a Drive"), by cuisine (American to Mexican), or by the names of 31 different establishments.
There seem to be more vegan and vegan-leaning Toledoans than many had realized last year, in addition to those who'll simply eat the dishes as long as they're delicious, regardless of vegan status.
And it's good to see that there are many more places catering to these hungry people's appetites, even if the suggested coffee shop still hasn't opened its doors. It doesn't seem as necessary anymore, does it?
I won't say, "I told you so."
But ...
Contact Mary Bilyeu at 
mbilyeu@theblade.com
 or 419-724-6155 or on Twitter @foodfloozie.