Home
→
News
→
Politics
173 stories in section, viewing 101 through 110
9/22/2015 12:00 AM
Toledo issues vary at forum for hopefuls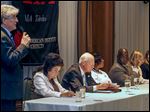 Mayoral candidates discuss super majority, fire chief.
9/22/2015 10:31 AM
Tense undercurrents for U.S.-China dinner
China accused of cyberspying, trampling human rights.
9/22/2015 12:00 AM
Collins promises more police
575-patrolmen goal would require cuts elsewhere.
9/21/2015 3:05 PM
Collins seeks to add to police force
Toledo mayoral candidate promises to hire 2 classes of 40 officers each if elected. …
9/21/2015 12:00 AM
Mayor: Water, roads on her agenda
Hicks-Hudson danced with supporters Sunday afternoon at a campaign rally. …
9/21/2015 12:00 AM
2 in race for Rossford mayor
Incumbent MacKinnon up against Duricek in Nov. 3 election.
9/20/2015 7:03 PM
Ben Carson says Muslims unfit to be president
9/20/2015 12:00 AM
Ferner chides Finkbeiner on '97 Jeep pact
Candidate says $280M aid should have locked in jobs.