Luck sides with Dixon this year in Indy 500 victory
5/26/2008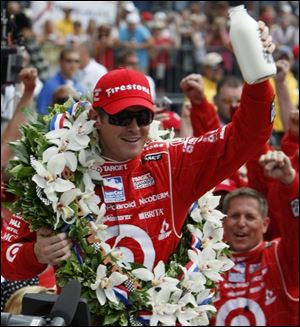 Complete Indy 500 results
" rel="storyimage1" title="Scott-Dixon.jpg"/>
Scott Dixon finally got to hoist the traditional bottle of milk in Victory Lane in Indianapolis after a couple of close misses. (ASSOCIATED PRESS) <br> <img src=http://www.toledoblade.com/assets/gif/weblink_icon.gif> <b><font color=red>ALSO</b></font color=red>: <a href=" /apps/pbcs.dll/article?AID=/20080526/SPORTS15/396955523" target="_blank "><b>Complete Indy 500 results</b></a>
INDIANAPOLIS - Scott Dixon has clearly had enough of second place.
He was second to Dario Franchitti in last year's Indianapolis 500, missing his opportunity to challenge for the win when rain cut the race short by 34 laps.
Dixon got the ultimate bridesmaid's slap in the face in the final race of the 2007 IndyCar season when he ran out of fuel on the last lap, just two turns from victory, and Franchitti shot past him to win the race and take the points title from Dixon.
Yesterday, Dixon started from the pole, led more laps than any other competitor, and had enough good karma working to avoid a collection of bizarre incidents and then streak the final 24 laps under green flag racing to win the Indy 500.
"I was worried there at the end, because after the way the day had gone, I just thought something was going to go wrong," Dixon said. "There were so many things happening, so many cautions, that it was hard to get into a rhythm. I was just trying hard to hang on and make sure we were first this time."
Dixon had to outrun Vitor Meira over the final segment of the race, but Meira was so involved in his battle to hang on to second and hold off third-place finisher Marco Andretti that he never got in position to seriously challenge Dixon. Meira, second here at the Indianapolis Motor Speedway in 2005, had led briefly about three-quarters of the way through the race after making a needle-threading pass between Dixon and Ed Carpenter.
"As soon as I found a hole I could put my car into, I went for it," Meira said about his brief lead. "Just because I finished second doesn't mean I didn't try to win it. Scott just had a little more than the rest of us there at the end."
Before he could win the 92nd running of this race, however, Dixon had to avoid the wide inventory of episodes that included a fire in the pits, multiple cars hammering into the wall, pit road collisions, cars spinning out of control down pit road, and a drive shaft giving out as one of the lead cars came down off the jack in the pits.
"There was a lot that happened all around us today," Dixon said. "This is a long race, and you gotta get to the end to win it. And sometimes that's just a matter of survival."
Flying debris clipped the wing on the car of two-time winner Helio Castroneves, pushing him back in the field and ultimately to a fourth-place finish. Indy rookies Graham Rahal and Jamie Camara hit the wall and got knocked out of the race. Veteran Tony Kanaan, who has led laps in all seven Indy 500 races in his career, was out front near the halfway mark when Dixon pressured him on the high side, and Kanaan's teammate Andretti shot low, pinching Kanaan.
Kanaan slid up the track, hit the wall, abruptly ending his day. One of Dixon's strongest challengers had been eliminated, and Kanaan was steamed at his Andretti Green Racing teammate, the 21-year-old Andretti, grandson of former Indy 500 champ Mario Andretti.
"I had nowhere to go, and I'm not very happy about it," Kanaan said.
Dixon, who had sparred over the lead with Target Chip Ganassi teammate Dan Wheldon early in the race, battled back and forth with Andretti and regained the lead from Andretti on a restart with about 60 laps to go. South African Tomas Scheckter was also breathing down Dixon's neck in third.
After rookie Alex Lloyd spun out exiting turn four, and then did a spinning slide down pit road, the caution came out again and the leaders pitted. Scheckter's car suffered a broken drive shaft coming down off the jack, and Carpenter slipped into the Indy 500 lead for the first time in his career, with Dixon and Meira stalking him.
Milka Duno stalled her car after spinning out into the grass a short time later, and another charge into the pits followed. As crowd favorite Danica Patrick, running seventh at the time, attempted to exit the pits, Team Penske driver Ryan Briscoe angled into her, and the damage ended Patrick's day.
She stormed down pit road toward Briscoe's stall, where the Penske crew frantically made repairs on his car. Security officials prevented any altercation as Dixon took the lead coming out of the pits with less than 30 laps left.
When the green flag came out a final time, Dixon nursed his lead over Meira to almost a full second and made certain there would be no drama at the end of the race. Running out of time and finishing second in last year's rain-shortened race had haunted the Dixon team for 12 months.
"We dedicated ourselves to do one spot better," said Mike Hull, Dixon's race strategist. "With a lot of extra work over the winter, and Scott's enormous talent, we were able to do that."
Dixon, who earned his 12th career win in the IndyCar Series and moved into the lead in the points race, said the victory completed a May he had only dreamed about. He was fast in practice, the fastest in qualifying, and the fastest survivor in an incident-filled 500 miles.
"In our month, everything went so well that you were just waiting for something to go wrong," Dixon said. "There were so many times in this race that we thought we had it, and then something would happen. But nothing did go wrong for us. What a day."
Contact Matt Markey at:
mmarkey@theblade.com
or 419-724-6510.