Home
→
Sports
---
High School
Northview advances to district fina …
Wildcats hockey team shutout Bowling Green, 3-0.
Walleye
Walleye fall to Orlando
Solar Bears handed the Walleye their eighth straight loss.
High School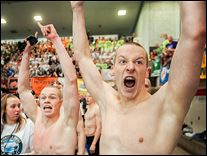 2 St. Francis relay teams win state …
But Knights runner-up to Cincinnati St. Xavier.
1 week ago
---
More Sports→
Loading Videos....
Dave Hackenberg
Health key in Woods' chase of Nicklaus
Tiger still chasing his own tale.
Matt Markey
Boating instruction revs up before the t...
Education is always part of the float plan.
Dave Hackenberg
Drummond still leading the Rockets
Team co-captain never lost coach's trust after arrest.