Home
→
Sports
BGSU
Ronnie Moore a dual threat
Injuries force BG receiver to help out on defensive side.
UT
Rockets trying to replace Zanoguera
Toledo still has plenty of experience entering season.
Toledo Christian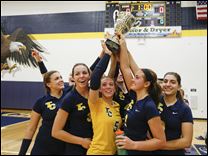 Eagles win TAAC championship
3-1 victory over Cardinal Stritch clinches title.
23 hours ago
---
More Sports→
Loading Videos....
Dave Hackenberg
Pirates show fallacy of wild card
All divisions are not created equal.
Matt Markey
Fall colors popping up
Hocking Hills region is something to behold.
Dave Hackenberg
Pizza parties pile up for UT's line
Toledo quarterback Phillip Ely has yet to be sacked.