Home
→
Sports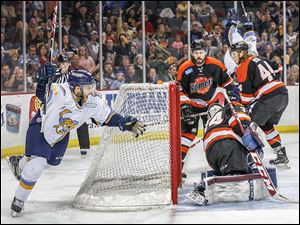 No place like home
Toledo goalie Neil Conway was stellar in his return between the pipes and helped the Walleye hold serve at home in the first two games of their North Division final playoff series against Fort Wayne. Toledo's Troy Schwab remained hot as the forward scored two goals to lead the Walleye to a 5-2 win over the Komets on Saturday night before a crowd of 5,034 at Huntington Center. Justin Mercier also scored twice for the Walleye, who lead 2-0 in the best-of-seven second-round series.
---
Indians
Indians sink Blue Jays 10-7
Kipnis home run propels Cleveland to victory.
Pro
Mayweather wins richest fight ever
Defeats Manny Pacquiao in unanimous decision.
Sports
Cabrera, Sanchez, Tigers win 6-4
Detroit moves half-game ahead of Royals after series split.
---
More Sports→
Loading Videos....
Dave Hackenberg
Browns beef up
Cleveland goes big in NFL Draft, selects several linemen.
Matt Markey
Toledo Yacht Club bringing intall ship f...
The Toledo Yacht Club is steeped in history. It is among the oldest yacht clubs in North America, tracing its founding back…
Dave Hackenberg
Game 7 lives up to expectations
One of Toledo's best hockey seasons ever will continue.