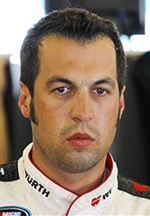 Hornish.
AP Enlarge
Sam Hornish, Jr., will have at least a part-time ride this season.
Joe Gibbs Racing announced Monday that Hornish, a Defiance native, will be one of its drivers for the 2014 NASCAR Nationwide season.
Hornish will drive the No. 54 Monster Energy Toyota for seven Nationwide races this season, including the August Nationwide race at Mid-Ohio Sports Car Course in Lexington, Ohio, and will split time in the car with Kyle Busch. Busch will drive in 26 Nationwide races in 2013.
"It's the best possible situation for me to jump into great equipment and have the opportunity to go right out and win," Hornish said in a statement posted Monday on JoeGibbsRacing.com. "After working with Penske [Racing] for 10 years and now to have the opportunity to partner with Joe Gibbs Racing, I couldn't have asked for anything better. These are great people, top notch."
Hornish, a former Indianapolis 500 and three-time IndyCar Series champion, switched from open-wheel racing to stock-car racing full-time in 2008. He finished second in the 2013 Nationwide standings behind Austin Dillon.
"We're excited to have someone of Sam's caliber joining Kyle behind the wheel of the Monster Energy Camry this year," J.D. Gibbs, President of Joe Gibbs Racing, said in a statement. "We think we have a great team there with Monster Energy, and Sam will be an outstanding addition. We lost out on the owner's championship by just one point last year so our focus will be on trying to get that title back in 2014."
Hornish's first Nationwide race this season is scheduled for May 3 at Talladega (Ala.) Superspeedway. Hornish is also scheduled to race in two Iowa Speedway races on May 18 and Aug. 2, Road America on June 21 in Elkhart Lake, Wis., Chicagoland Speedway on July 19 in Joliet, Ill., Mid-Ohio Sports Car Course on Aug. 16 in Lexington, and Kentucky Speedway on Sept. 20.
Contact Rachel Lenzi at: rlenzi@theblade.com, 419-724-6510, or on Twitter @RLenziBlade.
Guidelines: Please keep your comments smart and civil. Don't attack other readers personally, and keep your language decent. Comments that violate these standards, or our privacy statement or visitor's agreement, are subject to being removed and commenters are subject to being banned. To post comments, you must be a registered user on toledoblade.com. To find out more, please visit the FAQ.