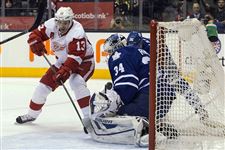 Detroit Red Wings' Pavel Datsyuk, left, scores on Toronto Maple Leafs goaltender James Reimer during a game in December.
ASSOCIATED PRESS Enlarge
MOSCOW — Detroit Red Wings center Pavel Datsyuk has been named captain of Russia's Olympic hockey team.
Datsyuk is recovering from a lower-body injury that has sidelined him almost two weeks. This will be his fourth Olympics.
RELATED ARTICLE: BGSU hockey player honored to be an Olympian
Datsyuk says on Twitter he is "honored" by the captain's spot. He adds that the team "embraces the opportunity and responsibility of representing our country on the home ice."
The Russian staff chose the 35-year-old Datsyuk over such candidates as Washington Capitals star Alex Ovechkin and Ilya Kovalchuk.
Ovechkin is the only Russian captain in the NHL and voiced support for Datsyuk on the day Olympic rosters were announced. Kovalchuk left the New Jersey Devils to play in the Kontinental Hockey League.
Guidelines: Please keep your comments smart and civil. Don't attack other readers personally, and keep your language decent. Comments that violate these standards, or our privacy statement or visitor's agreement, are subject to being removed and commenters are subject to being banned. To post comments, you must be a registered user on toledoblade.com. To find out more, please visit the FAQ.