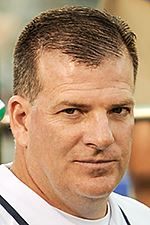 Martin
The latest wave of football coaches to crash the Mid-American Conference consists of a man gone mad.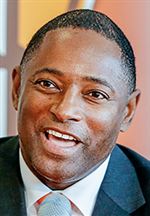 Babers
BLADE Enlarge
That's how Miami's Chuck Martin views his decision to take a $200,000 pay cut to be a head coach in major college football.
Martin, who served the past three seasons as Notre Dame's offensive coordinator, wore golden handcuffs at the Golden Dome, aware he someday might have to accept lesser pay in order to run his own program.
He's not alone. Rising salaries among assistant coaches is altering parameters of MAC coaching searches and requiring league athletic directors to — in sports parlance — grab a lob wedge instead of swinging away with a driver. Only Martin qualifies as a splash among the MAC's four offseason hires, as Bowling Green and Eastern Michigan plucked unheralded, albeit successful, head coaches from the Championship Subdivision — the lower of two Division I tiers. Massachusetts hired a native son, bringing back unemployed NFL assistant Mark Whipple to lead a Minutemen program he guided to a I-AA national title in 1998.
Miami acquired Martin only after he agreed to forgo $650,000 at Notre Dame, a figure the Irish were willing to sweeten to coax him into staying. Martin, who received a five-year deal at Miami for $450,000 annually, said he wouldn't have left "for just any MAC job" and was confident the infrastructure at Miami is sufficient to revitalize a program coming off a winless season.
"I think the [top schools] are trying to put you in a position that you can't take these jobs, which makes sense; they're trying to keep their assets in house and eliminate as many possibilities for them moving in another direction," Martin said. "There aren't too many people crazy enough to do what I did."
In 2010 there were 37 assistants on Division I coaching staffs who made at or above the average MAC head coach salary of roughly $358,000. In 2013 there were 86 assistants reaching the MAC average of $400,000, an increase of 135 percent in three years. Among them was former Western Michigan head coach Bill Cubit, who was fired by the Broncos after the 2012 season and earned an increase of more than $20,000 as Illinois' offensive coordinator.
In 2010, Al Golden of then-MAC member Temple made a league-most $513,868, more than all but nine assistants. Three years later 38 assistants made more than the $513,900 Frank Solich pocketed at Ohio.
Also in 2010, the MAC's Northern Illinois hired Dave Doeren, who was making $250,605 as Wisconsin's defensive coordinator, and paid him $371,000. Three years later, Wisconsin defensive coordinator Dave Aranda made $480,000 — more than all but Solich among MAC head coaches.
With the new College Football Playoff set to deliver an influx of cash — most of which will be distributed among the five major conferences — the gulf separating the Michigans from the Eastern Michigans could widen.
Moreover, a movement to legalize stipends to athletes could weaken the MAC's striking ability against the big boys. Ohio State, which spent $34 million on football in 2012, has coffers deep enough to pay both coaches and players. Toledo, which spent $22 million that same year across its entire athletic department, would be further disadvantaged.
"We're certainly entering a new phase," Akron athletic director Tom Wistrcill said. "It has changed, and it's going to continue to change because the money the top five conferences are able to put into their assistant coaches' pools is just so much higher than ours. That allows coordinators to be making $500,000 to $600,000 on the low end."
Three assistants made at least $1 million last season, exceeding the combined pay earned by Ohio's Solich and Toledo's Matt Campbell, whose $457,000 salary is second in the MAC.
Does anyone think offensive coordinator Chad Morris, making $1.3 million annually, would leave Clemson to coach, say, Buffalo?
There's a residual effect to consider. By bringing in coaches from lower ranks, MAC schools can keep costs low. For example, new Bowling Green coach Dino Babers, who comes from Eastern Illinois, is making the same amount — $400,000 — as the man he replaced, Dave Clawson.
"What's troubling for me is we used to in the MAC, when we needed a coach, look at the 10 to 12 best coordinators out there," said Wistrcill, who's in his fifth year at Akron. "That was your starter pool. Now if you're going to hire someone from there your first thought is if we're paying $400,000 and they're making $800,000 they're probably not coming.
"Two years from now, they'll be making a million or two million as a coordinator, and we'll still be paying $500,000 or something like that."
Wistrcill said 10 years ago a successful coordinator at, say, Michigan State, might have progressed to Eastern Michigan's head coaching position.
"Almost like a foregone conclusion," he said.
This offseason, Spartans defensive coordinator Pat Narduzzi, a hot name in the wake of MSU's 13-1 Big Ten title season, was not a player in EMU's search. He later reportedly turned down the Connecticut job and is expected to earn a raise at MSU from his $512,500 salary.
"We're wise enough in this business to recognize you don't go after the very, very top because finances are so different," said EMU athletic director Heather Lyke. "But also, it might not be what your institution needs."
Lyke's point is this: more pay doesn't necessarily equate to more wins. In place of rousing big-name hires, the MAC is getting proven head coaches at a bargain.
Lyke interviewed four lower division head coaches and one BCS coordinator before hiring Drake's Chris Creighton, who never has suffered a losing season in 17 years as a head coach.
Bowling Green won a MAC title this year with Clawson, who spent his formative years turning around FCS programs before a one-season stop as Tennessee's offensive coordinator. The Falcons went back to the FCS well with Babers, whose stock ascended after EIU captured a league title his first year after being picked to finish last in the Ohio Valley Conference.
Ball State won 10 games in 2013 with former Elon coach Pete Lembo. Wistrcill is pleased with his returns on Terry Bowden, recently awarding the former Division II North Alabama head man a two-year extension.
Miami athletic director David Sayler said he conducted a study with the help of a search firm that showed half of coordinators the past 10 seasons fizzled as head coaches. In October, he fired former Michigan State offensive coordinator Don Treadwelll after the RedHawks started 0-5.
A few high-level coordinators inquired about the opening and withdrew once Sayler started talking pay. Martin, who won two Division II national titles as head coach at Division II Grand Valley State, was nutty enough to throw his name into the mix.
"What we talk about is if you come here and do the job we all think you're going to do, you'll triple that salary in four years," Sayler said. "Some people aren't willing to wait that long."
Contact Ryan Autullo at: rautullo@theblade.com, 419-724-6160 or on Twitter @AutulloBlade.
Guidelines: Please keep your comments smart and civil. Don't attack other readers personally, and keep your language decent. Comments that violate these standards, or our privacy statement or visitor's agreement, are subject to being removed and commenters are subject to being banned. To post comments, you must be a registered user on toledoblade.com. To find out more, please visit the FAQ.