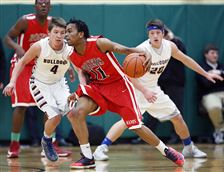 Rogers' Branden Austin drives against Rossford's Ryan Niese, left, during a Division II sectional semifinal Tuesday in Oregon. Austin led the Rams with 16 points in an overtime victory.
BLADE/JEREMY WADSWORTH Enlarge
Rogers avoided major disappointment in a Division II boys basketball sectional semifinal on Tuesday night at Clay.
But Woodward didn't.
Rogers did just enough to escape with a 69-67 overtime victory against Rossford.
However, in the second of two games, Genoa shocked Woodward by overcoming a 15-point halftime deficit to pull out an 86-84 victory before an enthusiastic crowd.
Comets Luke Rightnowar and Amos Kauder combined for 45 points to lead Genoa (10-13) back from a huge deficit against Woodward (10-12). Rightnowar poured in a game-high 25 points, and Kauder produced a career night, scoring 20, including six 3-pointers, in Genoa coach Keith Diebler's wide-open offensive system.
"I told them at halftime that shots were going to fall," Diebler said. "We had enough left in us to make a run. We actually made three.
"I am so proud of them. For anybody that's played in this system, that was one of the best efforts I've ever had as a coach, including the times I went to state. That was the way this works."
The Comets outscored the Polar Bears 50-33 after halftime.
Romoan Fane led Woodward with 24 points while Craig Kirkwood finished with 21 and Tahron Watson 19.
Watson had a chance to tie the score during the final seconds, but didn't convert on a wide-open layup as time was winding down.
"Truthfully, we should have made adjustments," Fane said. "We should have went to a zone.
"We made too many turnovers. This is real disappointing because this is my senior year. This is my last high school game."
For the game, the Polar Bears were 13 of 23 from the foul line while the Comets made 10 of 13.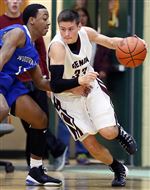 Genoa's Luke Rightnowar drives past Woodward's Shonta Jones during a Division II sectional semifinal Tuesday night in Oregon. Rightnowar scored a game-high 25 points.
BLADE/JEREMY WADSWORTH Enlarge
The Polar Bears owned a 51-36 advantage by halftime. Watson had 12 points and Daijour Whittington had 11 of his 13 to lead the way during the first half.
In the first contest, Branden Austin paced Rogers with a team-high 16 points in a game where the Rams fell behind by 12 points late in the third quarter.
"We were sleeping on them," Austin said. "We woke up toward the second half. We put the press on them.
"We just have to keep our heads up. We've got a long way to go so we need to keep getting wins."
Omari Hicks finished with 15 points, including a key four-point play, during the Rams' 17-5 run early in the fourth quarter. That led to Rogers (13-9) tying the score at 59 on a layup by Cameron Copeland off a Rossford turnover with 5 minutes, 9 seconds left in regulation.
Alejandro Williams, who converted a key three-point play in overtime, added 10 points. Copeland provided 11 points, and Fadill Robinson finished with nine for the Rams, who dodged a major first-round upset.
"It looked like at one time we might not be playing Friday, but the kids didn't want that to happen," Rogers coach Earl Morris said.
The Rams' coach said the Bulldogs' offense, which involves backdoor cuts and shooting from the perimeter, wasn't a complete surprise to them.
"We just kept leaving people for open shots, and when guys can shoot, you can't leave them open," Morris said.
"In the first half they were 5 for 7 from 3-point range. I think they got a little tired in the end and couldn't make the shots."
Rossford's Derek Mack scored 17 of his game-high 26 points before halftime to help the Bulldogs lead 36-34. Mack Miller scored 15 points, including three 3-pointers, while Brian Burks and Mrty Linthicum added seven apiece.
Mack also sank three 3-pointers, but a midrange jumpshot just inside the foul line with just over two minutes to play in the fourth quarter could have been his biggest basket of the night. It gave Rossford a 63-61 advantage.
But the Bulldogs (15-7) couldn't keep the Rams from tying the game and sending it into overtime. Williams pulled down an offensive rebound of a Rams missed shot and laid it in with 1:28 left.
Both teams had opportunities to score a go-ahead basket during the final minute, but neither could convert before going to overtime.
"It's difficult because our kids played so hard," Rossford coach Brian Vorst said. "If we come out here and lay an egg and get beat that's one thing, but I'm looking at three seniors that don't get to play anymore and say to them, 'Believe it or not, you played your tails off.'
"It just wasn't quite enough tonight. We had our chances, but we lost our composure once in a while and that is going to happen. We don't get to see this kind of (up-tempo) play very often. We tried to prepare for it."
Rogers will play Lake and Genoa takes on Scott on Friday in sectional finals at Clay.
Contact Donald Emmons at: demmons@theblade.com, 419-724-6302 or on Twitter @DemmonsBlade.
Guidelines: Please keep your comments smart and civil. Don't attack other readers personally, and keep your language decent. Comments that violate these standards, or our privacy statement or visitor's agreement, are subject to being removed and commenters are subject to being banned. To post comments, you must be a registered user on toledoblade.com. To find out more, please visit the FAQ.