Three-horse race for starting UT quarterback
Trio still in competition for starting role
8/8/2014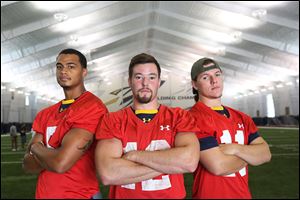 Toledo's Michael Julian, left, Phillip Ely, center, and Logan Woodside are vying to be this year's starting quarterback.
With the season opener 22 days away, the University of Toledo still isn't quite sure who will be its starting quarterback when New Hampshire comes to the Glass Bowl.
Toledo has an elder statesman, a successful former backup, and an athletic novice splitting snaps to be the its No. 1, and through four days of fall camp, the Rockets have yet to decide who will be the man. With three-year starter Terrance Owens gone, Toledo head coach Matt Campbell said the Rockets were pleasantly surprised to see all three successors — redshirt junior Phillip Ely, sophomore Logan Woodside, and redshirt freshman Michael Julian — were better than expected in spring football.
For Toledo's offense, Campbell believes having three viable candidates isn't a controversy.
"We expect our quarterback to make plays with his feet and have the ability to throw the football as well," Campbell said. "I think when you have that and you ask that, you better have guys — one, two, possibly three guys — who can run your offense and be able to do it efficiently. I think we have a great problem here, if you call it a problem. I think it's an answer to what we do from an offensive standpoint."
The elder statesman
Ely was the only quarterback in his high school class signed by Alabama. He led Plant (Fla.) High School to three state championship games and won two of them. He threw for more than 2,700 yards as a senior to win the attention of the Crimson Tide, which won national championships in both of his years there.
Ely was AJ McCarron's backup in 2012 and played in six games, but with a small army of quarterbacks on the roster — six were on scholarship when he left — Ely realized he probably wouldn't ever be Alabama's starter, so he transferred to Toledo. He waited another year in accordance with transfer rules, which means he hasn't started a game in nearly four years.
"It's been a long time, and for any kind of athlete, they always want to be the guy on the field," Ely said. "To wait that long, yeah, it's kind of like [I'm] ready to unleash something."
As a 21-year-old, Ely is one of Toledo's older players, something he wants to use in his quest to take the top job. He is someone who the staff clearly thinks can be a leader.
"He's the elder statesman of the group," offensive coordinator and quarterbacks coach Jason Candle said. "I think what I like about Phil is that he stays really calm and the situation is never bigger than he is."
Ely likely is the favorite to take the starting job for the Rockets, but it is far from a certainty. He has seen plenty of elite football since high school, and hopes this year will be his turn to play it.
"I've been around a lot of great players, and that's here included, here in Toledo. I can only put those in my portfolio and use those games that I watched as good experience for the future," Ely said.
The former backup
Woodside has done something neither of the other two candidates have: taken a meaningful snap at Toledo. Woodside was pressed into action last season against Eastern Washington, and he did well, throwing an 81-yard touchdown pass and helping the Rockets win his lone college start.
The coaching staff likes Woodside's personality.
"Logan's an intelligent player," Candle said. "I think Logan's biggest thing is his competitiveness. He brings it every day and is a guy who has a little bit of chip on his shoulder, always has something to prove."
With some successful experience to his credit, Woodside said he thinks he can develop into a leader for Toledo.
"Leadership — I like to rally the guys around me," Woodside said. "I think that's one of my big traits, being around the guys and making them laugh when stuff goes wrong, and just being there for my teammates."
As he has adapted to the college game and to living away from his native Kentucky, Woodside has improved rapidly, but, as Campbell and Candle said, so have the other two candidates. No matter who wins the job, Candle said everybody needs to be ready at all times, just like Woodside was last season.
"I think if you look at the underlying factor of being here at Toledo the past five years, more than one quarterback has played every year," Candle said. "Sometimes by choice and sometimes by default because of injury. It's important we have all three of those guys ready to go at any given moment."
The athlete
At 6-foot-5, Julian is the tallest and most athletic of the three, but he's also the only one who has yet to take a college snap. His athleticism and versatility — he also can punt if need be — are assets for Toledo.
Julian said he still might have to adjust to the speed of the game, however.
"[In] high school I just kind of ran around and threw the ball, but here you actually have to take drops," he said. "It's three times as fast as it was in high school. I just wasn't expecting it at all."
Julian said that he feels more comfortable as he keeps taking repetitions in practice. Though he clearly can scramble and be an effective runner, Candle said Julian isn't the prototypical running quarterback. Even if this isn't Julian's year as a starter, Candle said Toledo is excited about Julian's potential.
"He's much more than just an athlete. He's certainly a quarterback first. He's certainly a guy who processes information really well," Candle said. "He's active in the meeting room and he's a good learner. He's got a really bright future."
Contact Nicholas Piotrowicz at: npiotrowicz@theblade.com, 419-724-6110, or on Twitter @NickPiotrowicz.