Familiarity breeds success for O-line
UT fortunate to have veterans up front
8/15/2014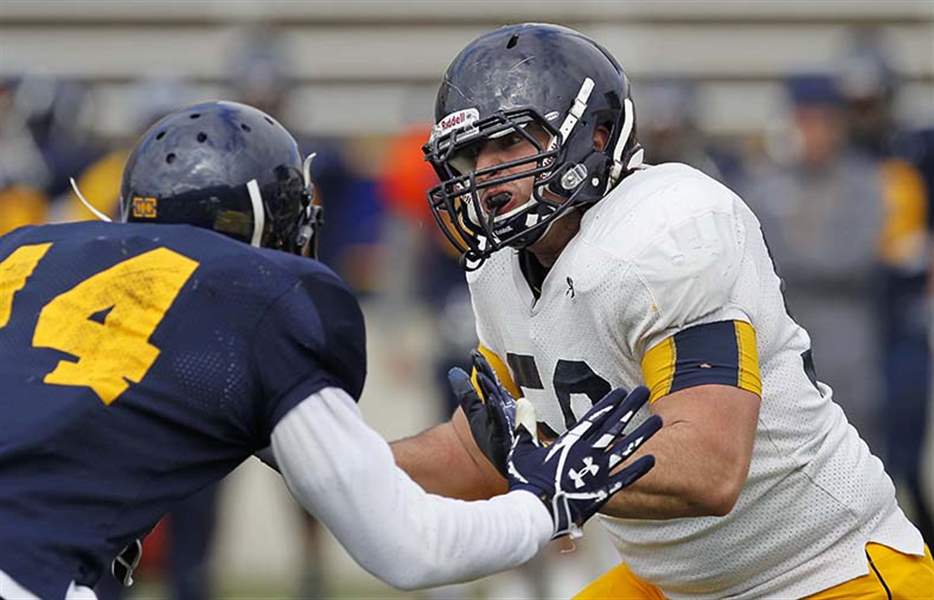 Toledo's Josh Hendershot, right, is one of five seniors slated to start on the offensive line for the Rockets.
BLADE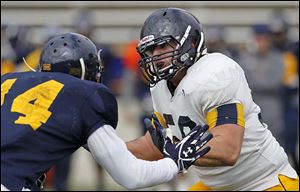 Toledo's Josh Hendershot, right, is one of five seniors slated to start on the offensive line for the Rockets.
Many offensive line coaches spend huge chunks of time begging their lineman to communicate better.
University of Toledo offensive line coach Tom Manning is not one of them.
The party is brought to Manning, whether he likes it or not.
Mancz
Toledo has five seniors projected to start on the offensive line, three of whom — Greg Mancz, Josh Hendershot, and Jeff Myers — have spent their entire careers together and are longtime roommates. Manning doesn't need to interject often.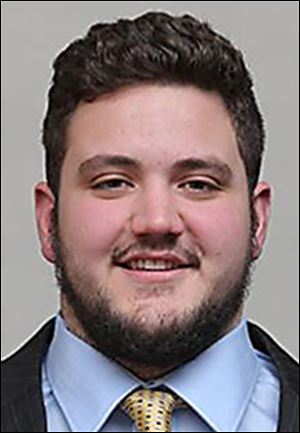 Myers
"They usually bring the bickering in here," Manning said. "You always know who's mad at who. They're not shy about calling each other out, which definitely keeps things interesting."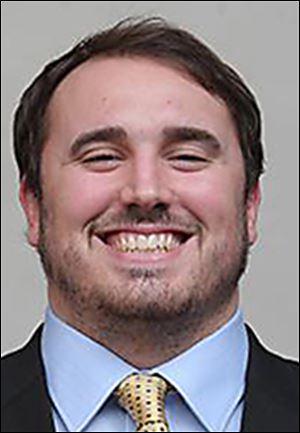 Hendershot
All three came to Toledo in 2010 and red-shirted their first season. They learned the playbook together, lived together, and became the closest of friends. They don't have a problem bemoaning Hendershot's sleeping habits — he needs total darkness, which includes covering every little electronic light in the room — or making fun of Myers' 50cc motorbike, which is too small for most eighth graders, let alone a college lineman.
The trio is messy together so, naturally, they clean together, and they also have become connoisseurs of bargains offered by local pizza restaurants out of necessity because each one eats a large pizza in one sitting.
"We always go with the deals," Mancz said. "We don't have money."
All of them graduated and began working on graduate-level coursework and, on the field, made nearly all of their starts together. Along with fellow senior Chase Nelson, the Rockets' offensive line has 97 combined starts heading into this season. Since they've already done everything else together, there is real hope within the program that this year's line will push Toledo to its first league title since 2004.
Their comfort with each other has lead to seamless communication on the field.
"To be honest, it makes it easy," Hendershot said. "The past two years, I've played beside Jeff, and most of the time we don't even have to say anything. We just knew what we both were going to do, calls were easy to make, and the communication was really simple."
Since they're good friends, there is no reservation among them when it comes to improving on the field.
"I think the communication transferred from off the field because we were all really good friends," Myers said. "We all could yell and scream at each other, but we knew it was in everybody's best interest. That's made the world of a difference."
Toledo will have to shuffle positions on the offensive line, which Manning said will be decided at some point during fall camp.
Even with one of them on the move, there isn't much worry about adjustment.
"One of us has to move positions, but it's going to be easy knowing we're playing next to two guys we already know, that we have proven chemistry with," Mancz said. "It makes it easier, and on top of that, it makes communication more plausible."
Manning said the linemen should be recognized for more than their talent.
During an era in which players transfer more than ever and turnover is inherent in college football, Manning said a group like Toledo's is rare.
"Obviously, with those guys and the relationship they have together, the trust and communication is there, and it's evident in the way they play," said Manning, who added he's proudest that all five Toledo lineman have graduated. "That they're all doing that in this day and age of college football, that's pretty special."
Contact Nicholas Piotrowicz at: npiotrowicz@theblade.com, 724-6110, or on Twitter @NickPiotrowicz