DeShone Kizer will turn 22 on Wednesday, and he already has packed a lot into his life and football career in the past five years.
It's been a rapid ascent from his junior season at Central Catholic, when he quarterbacked the Fighting Irish to an Ohio Division II state championship, to September of this year, when he became a National Football League starter as a rookie with the Cleveland Browns.
Although Kizer has struggled along with a downtrodden Cleveland team that takes an 0-15 record into its season finale Sunday at Pittsburgh, the rapid rise of the Toledoan was the choice of a 24-member Blade sports panel as the top regional (professional, college, other amateur) sports story of 2017.
The ongoing story of Kizer's climb from prep to pro quarterback received five first-place votes and 172 of a possible 240 voting points to finish first in the poll.
In 2013, DeShone Kizer was the starting quarterback for Central Catholic before starting at Notre Dame and for the Cleveland Browns.
THE BLADE/JEREMY WADSWORTH
Enlarge | Buy This Image
1. Toledo's own starts in Cleveland
To say life has been a whirlwind for Kizer since he graduated from Central Catholic in 2014 would be an understatement.
After a redshirt season at Notre Dame in the fall 2014, Kizer was pressed into action early in 2015 when Fighting Irish starting quarterback Malik Zaire suffered a season-ending injury.
In Notre Dame's second game, after Zaire exited with the injury, Kizer fired a game-winning 39-yard touchdown pass to Will Fuller with 12 seconds remaining in a win against Virginia.
He continued to excel, leading the Irish to a 10-2 regular-season finish before the they lost to Ohio State (42-30) in the Fiesta Bowl.
Although Notre Dame struggled to a 4-8 record in 2016, Kizer continued to impress NFL scouts. After his redshirt sophomore season, he decided to end his college career and enter the draft.
In April, Kizer was selected in the second round (52nd overall pick) by his home-state Browns. After an impressive training camp, he earned the confidence of Browns coach Hue Jackson, who made the rookie his season-opening starter.
"A dream come true," the Central Catholic graduate said when the move was announced.
Playing 14 of the Browns' 15 games, the learning-on-the-fly Kizer has passed for 2,580 yards, with nine touchdowns and 21 interceptions, completing 53.6 percent of his passes.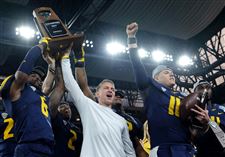 From left, defensive back Trevon Mathis, Toledo head coach Jason Candle, and quarterback Logan Woodside celebrate beating Akron at Ford Field as UT won its first MAC title since 2004.
BLADE/LORI KING Enlarge
2. Rockets win MAC football title
The University of Toledo football team has been one of top Mid-American Conference football teams for more than a decade, but the Rockets had failed to bring home a MAC championship since 2004.
But second-year head coach Jason Candle put an end to that championship drought with plenty of help from record-setting senior quarterback Logan Woodside, as the Rockets (11-3 overall) won the MAC West Division, then beat Akron 45-28 in the conference championship game at Ford Field in Detroit on Dec. 2.
During the regular season, UT's only blemishes were a 52-30 loss at Miami (Fla.), and a humbling 38-10 MAC setback Nov. 8 at Ohio University. But Toledo regrouped, and ultimately clinched the MAC West with a convincing 37-10 home win Nov. 24 against Western Michigan.
The Rockets closed their 2017 season in disappointing fashion Dec. 23, being blanked 34-0 by Appalacian State in the Dollar General Bowl in Mobile, Ala.
Woodside closed his standout career as UT career leader in passing yardage and touchdown passes, among other program records. He was named the MAC's offensive player of the year.
Robert Easter, Jr., left, floors Luis Cruz with a punch during their Feb. 10 boxing match at the Huntington Center. Easter retained his IBF championship belt with the win via decision.
BLADE/ANDY MORRISON Enlarge
3. Easter defends title twice in Toledo
After Toledo native Robert Easter, Jr., had won the International Boxing Federation's world lightweight championship in September, 2016, with a split decision victory against Richard Commey in Reading, Pa., he looked to bring a title fight to his hometown.
Easter did that twice, defending his title each time at the Huntington Center downtown.
On Feb. 10, Easter took a 12-round unanimous decision against Luis Cruz, and June 30 he pushed his professional record to 20-0-0 with a 12-round unanimous decision against Denis Shafikov.
Easter, 26, began his pro career in November, 2012, and 14 of his 20 victories have come by knockout.
4. Indians win 22 straight games
It began inauspiciously enough Aug. 24, when the Cleveland Indians took a 13-6 victory against the visiting Boston Red Sox that pushed the team's season record to 70-56.
Three weeks later, the baseball world was focused sharply on Cleveland, which made history Sept. 14 with a 3-2 walk-off win against Kansas City, the Indians' 22nd consecutive win and an American League record.
The streak finally ended the next day, when the Kansas City Royals edged Cleveland 4-3. The Indians fell four wins short of the MLB record of 26 wins in a row set by the New York Giants in 1916.
During Cleveland's AL-record streak, starting pitchers Corey Kluber, Trevor Bauer, and Mike Clevinger each went 4-0, and the Indians outscored the opposition 142-37.
The Indians finished 102-60 and won the AL Central Division by 17 games. After winning two more games to open an AL Division Series against the New York Yankees, the momentum died suddenly, as the Yankees rallied for three straight wins to eliminate Cleveland from the postseason.
Toledo head coach Tricia Cullop celebrates after the Rockets women's basketball team won the MAC tournament in Cleveland. The win allowed UT to return to the NCAA tourney for the first time since 2001.
BLADE/KATIE RAUSCH Enlarge
5. Rockets women reach NCAA tourney
The University of Toledo had found success on a national stage in women's basketball in 2011 when coach Tricia Cullop's Rockets won the Women's National Invitational Tournament, beating USC in the title game before a packed home crowd at Savage Arena.
But the UT women had not reached the NCAA tournament since 2001, and the 2016-17 season didn't appear to be the time to when that drought would end.
But, Cullop's Rockets, who finished the regular season at 21-9 overall and 12-6 in the Mid-American Conference's West Division, good enough for third place, made it happen nonetheless.
UT opened the MAC tourney with wins against Akron, Kent State, and Buffalo to reach the conference tourney title game.
The Rockets then topped Northern Illinois 82-71 to take the tourney championship, and drew a first-round NCAA tournament matchup in Corvallis, Ore., against Creighton. UT was eliminated with a 76-49 loss.
Toledo's balanced offense was led in scoring on the season by Mikaela Boyd (12.2 points per game), followed by Janice Monakana (12.1), Jay Bravo-Harriott (11.5), and Notre Dame Academy product Kaayla McIntyre (10.0).
6. Tigers trade stars, begin to rebuild
With a going-nowhere-fast record of 43-49 on July 18, the quickly aging, salary-heavy Detroit Tigers began to pull the trigger on a major roster dismantling in preparation for a rebuild after solid run of mostly competitive seasons since 2006.
The first move was trading power-hitting outfielder J.D. Martinez to the Arizona Diamondbacks on July 18. Thirteen days later, Tigers general manager Al Avila traded his son, catcher Alex Avila, along with relief pitcher Justin Wilson to the Chicago Cubs.
Then on Aug. 31, Detroit traded outfielder Justin Upton to the Los Angeles Angels and, just minutes before the midnight deadline that day, disappointed many die-hard Tigers fans by trading longtime pitching ace Justin Verlander to the Houston Astros.
Some of the departed Tigers excelled in their new homes. In 62 games with Arizona, Martinez hit 29 home runs and drove in 65 runs. Verlander immediately became the Astros' ace, closing the regular season with a 5-0 record and a 1.06 ERA in Houston. He then went 4-1 in the postseason to help Houston to its first World Series title.
Detroit finished a last-place 64-98, posting its worst record since 2003.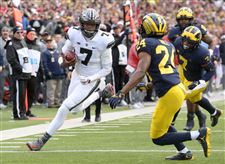 Ohio State quarterback Dwayne Haskins had to enter the rivalry game vs. Michigan because of an injury to J.T. Barrett, but the freshman went on to lead the Buckeyes' comeback win.
Blade/Katie Rausch Enlarge
7. Ohio State wins Big Ten, misses playoff
In a college football season of highs and lows for the Ohio State Buckeyes, coach Urban Meyer's team won its first Big Ten championship since its national-title season of 2014.
With fifth-year senior quarterback J.T. Barrett turning in what was arguably the best performance of his career in a 39-38 comeback win against Penn State, OSU was riding high and seemed to have put a home loss to Oklahoma in the rear-view mirror.
But that momentum was short-lived, as one week later the Buckeyes were embarrassed in a 55-24 Big Ten loss at Iowa.
OSU regrouped again, rallying to a 31-20 win at Michigan, and hanging on for a 27-21 victory against previously unbeaten Wisconsin in the Big Ten championship game.
But once again, a high was followed by a low, as the College Football Playoff selection committee awarded the four playoff spots to Clemson, Oklahoma, Georgia, and Alabama, leaving 11-2 Ohio State just out of the field in the No. 5 spot. The Buckeyes beat No. 8 USC 24-7 in the Cotton Bowl on Friday.
8. Cavaliers make third straight NBA final
Coming off their exhilarating NBA crown from 2016, a championship that ended a 52-year title drought for professional sports in the city of Cleveland, the Cavaliers were strong again in 2016-17 but never seemed to capture the magical formula from a year earlier.
Led as always by the all-around brilliance of their iconic star, LeBron James, who averaged 26.4 points, 8.6 rebounds, and 8.7 assists per game, the Cavs won the Central Division with a 51-31 record, getting the No. 2 playoff seed in the Eastern Conference behind the upstart Boston Celtics.
The Cavs swept its first-round series 4-0 against the Indiana Pacers, and did the same against the Toronto Raptors. In the Eastern Conference Final, with the Celtics having lost star Isaiah Thomas to an injury, Cleveland easily eliminated Boston 4-1 to earn a third consecutive NBA Finals matchup against the imposing Golden State Warriors, who since the previous season had added league superstar Kevin Durant to an already nearly unbeatable mix.
Despite valiant efforts from James and star guard Kyrie Irving, the explosive Warriors had too much for Cleveland to handle in taking a 4-1 series victory, and winning their second title in three years.
The Warriors had beaten Cleveland 4-2 in the 2015 finals, but squandered a 3-1 series lead in losing to the Cavs in the 2016 finals, 4-3.
9. Buckeyes QB Barrett injured; Haskins rallies OSU past UM
In a somewhat surreal chain of events in the latest installment of the Ohio State-Michigan football rivalry Nov. 25, the visiting Buckeyes saw their record-setting quarterback Barrett leave the game because of an injury — not incurred in the field of play, but from a collision with a cameraman on the OSU sideline.
Although Barrett played after the collision, the jolt to his knee ultimately forced him out of the game late in the third quarter.
Enter redshirt freshman backup quarterback Dwayne Haskins, who was called upon by coach Urban Meyer with OSU trailing 20-14.
All Haskins did was complete six of his seven passes for 94 yards, and lead the Buckeyes' 17-point rally in a 31-20 victory, their sixth in a row against their rivals.
Barrett had a surgical procedure to repair his injured knee and returned to action for the Dec. 2 Big Ten championship game in Indianapolis against unbeaten Wisconsin.
The standout play of Northview product and captain Alden Hirschfeld was just one reason the Toledo Walleye won its second Brabham Cup in three seasons and reached the ECHL's Western Conference finals.
BLADE/KATIE RAUSCH Enlarge
10. Walleye win Brabham Cup, reach conference finals
In his first season as head coach of the Toledo Walleye, Dan Watson was named ECHL coach of the year after his team set franchise records for total wins (51) and road wins (25). The Walleye won the league's Brabham Cup (for having the most points in the standings) for the second time in three seasons, and advanced through the first two rounds of the ECHL playoffs to earn a matchup against in the Western Conference Final against eventual Kelly Cup playoff champion Colorado.
During the season, Toledo became the first team in league history to score the most goals (302) and allow the fewest (191). Team captain Alden Hirschfeld, a Northview product, made a remarkable comeback from offseason brain surgery.
During an opening-round playoff series against Kalamazoo, Walleye defenseman Simon Denis endured a brutal on-ice cross-checking attack from Kalamazoo captain Ben Wilson. With Denis face down on the ice, an enraged Wilson pounded the prone Walleye player seven times with his stick. Denis suffered a concussion, and Wilson received a 20-game suspension from the ECHL.
During the 36-game home schedule, the Walleye drew a Huntington Center-record 254,660 fans, an average of 7,074 per game, including 20 sellouts.
Contact Steve Junga at: sjunga@theblade.com, 419-724-6461, or on Twitter @JungaBlade.
Guidelines: Please keep your comments smart and civil. Don't attack other readers personally, and keep your language decent. Comments that violate these standards, or our privacy statement or visitor's agreement, are subject to being removed and commenters are subject to being banned. To post comments, you must be a registered user on toledoblade.com. To find out more, please visit the FAQ.