BOWLING GREEN — Matt Donahue walked past amplifiers and electric guitars that sat on stands in front of a drum set and stood at the front of the room Thursday afternoon in the Jerome Library at Bowling Green State University.
"We're just gonna have some fun. How does that sound to everybody today?" the lecturer in the department of popular culture asked the audience of 50 people.
As part of Banned Book Week, Mr. Donahue presented on a projector more than an hour's worth of iconic controversial moments in popular music, which began from the 1950s and ended with the beginning of the current decade.
WATCH: Matt Donahue plays at Jerome Library at Bowling Green State University
He spoke about early critiques of rock and roll music during the '50s such as religious leaders condemning the genre as the juvenile delinquency, as well as politicians stating rock music was blasphemy.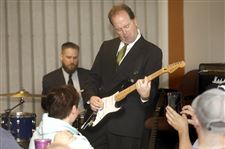 Matt Donahue plays the guitar after delivering a lecture on popular music controversies and banned popular music at the Jerome Library at Bowling Green State University.
THE BLADE/KATIE RAUSCH
Enlarge | Buy This Image
Elvis Presley's famous appearance on the Milton Berle show shaking his hips that, at the time, was too controversial for television, John Lennon's famous "We're more popular than Jesus, now" quote in an interview with Rolling Stone, Rob Tyner's of MC5 use of profanity during a recording of a live album, and Jimi Hendrix's performance of the "Star Spangled Banner" at Woodstock were moments he highlighted. Others included Loretta Lynn and her song "The Pill" regarding feminism, Sex Pistols recording of "God Save The Queen" and "Anarchy In U.K." on a record label.
Curiosity brought Bowling Green resident Ron Campbell to Thursday's presentation and performance and he said he was intrigued by the banned music topic.
Mr. Campbell, 70, said he graduated high school in 1964, right around the same time as the British Invasion in the United States. He was a fan of The Beatles and the Rolling Stones. He was even one of the hundreds of thousands who attended the famous New York Woodstock music festival in the late '60s.
He remembered watching Jimi Hendrix, yet he said he found nothing from that era of music controversial or disgusting even though many others did.
"I didn't view [that music] as being banned at the time," Mr. Campbell said. "I was intrigued just by the subject of [this presentation]. That was just outstanding music at the time."
More recent controversial moments Mr. Donahue brought to light included Twisted Sister's Dee Snider's hearing at Capitol Hill against the Parents Music Resource Center and its actions labeling sound recordings, Ice T's Freedom Of Speech highlighting cultural unification, and Clear Channel Radio's suggestion of 150 songs not to play after the Sept. 11 terrorists attacks in the United States.
He also spoke of country group Dixie Chicks and its remarks about George Bush as well as Pussy Riot's performance of a song against Vladimir Putin at the Cathedral of Christ The Savior in Moscow, which led to members being arrested.
Once done speaking, Mr. Donahue picked up an electric guitar and played three songs with alumni Craig Dickman and Tyler Burg such as Link Wray's 1958 song "Rumble."
"Parents would say it represented a gang fight, hence the word 'rumble,' but it was really just a completely improv song," Mr. Dickman said. "It was a big rock and roll staple and was the building block for everything that followed."
Thursday's Banned Music presentation and performance was the second event Mr. Donahue has hosted at the university's library.
"There's a lot of attention and focus in on banned books but not enough attention on banned popular music," he said. "Situations like this help give exposure to these events that have been epiphanal in our time and in popular culture.
"It's important in bringing an awareness to these moments of censorship," he said.
Contact Geoff Burns at gburns@theblade.com or 419-724-6054.
Guidelines: Please keep your comments smart and civil. Don't attack other readers personally, and keep your language decent. Comments that violate these standards, or our privacy statement or visitor's agreement, are subject to being removed and commenters are subject to being banned. To post comments, you must be a registered user on toledoblade.com. To find out more, please visit the FAQ.