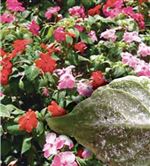 A pathogen has been affecting impatiens, above. Downey Mildew turns the leaf white, inset.
BLADE PHOTO ILLUSTRATION Enlarge
Have you noticed your impatiens looking lovely one day, then within days, they are wilted and dead? You are not alone. The Ohio State University Extension hotlines around northwest Ohio have been swamped with calls about this issue.
Downy mildew
Scientists have labeled the problem downy mildew. Amy Stone, Lucas County extension agent for Ohio State University said, "We had a sample come in last week and have had some phone calls too."
The pathogen in this case is Plasmopara obduscens and it will cause the leaves on your plant to drop quickly.
"Downy mildew symptoms begin as a light-green yellowing or stippling of infected leaves," said Nancy Taylor of the Ohio Plant Diagnostic Network. Look for subtle gray lines on top of the leaves and their edges may curl down." Look under the leaves for another sign. This pathogen will create a white, almost fuzzy growth under the leaves, giving it its name.
OSU says four cases have been confirmed in Delaware, Wayne, and Holmes counties and they have put the Ohio greenhouse industry on alert to take measures to manage the spread of this disease. Ms. Stone said the spores are airborne, so it is affecting impatiens plants whether they are grown in a greenhouse or at home.
"We have also had calls from homeowners who have started their own impatiens by seed in their own garden. They have seen the downy mildew clear out plants in their garden too. This is a big concern because it will be tough to pinpoint and tough to spot."
It was first spotted in 2011 in Europe and OSU said it appeared in California, New York, Florida, and the Midwest shortly afterward.
Plants could be infected, but the symptoms don't show up for a couple of weeks and they may already be shipped to another location.
"What is really important is that gardeners should not be replanting impatiens in the same area if they have the disease this year," Ms. Stone said. "The good news is New guinea impatiens are not susceptible and can be planted in infected areas."
The American Floral Endowment has recommendations at endowment.org on fungicides for growers to use to prevent the pathogens from making a home at greenhouses. They also have guidelines on what a greenhouse can do if they have had confirmed cases of downy mildew coming from their operation.
Because of downy mildew, we may have to find a new favorite annual to plant in our landscape for years to come.
Contact Kelly Heidbreder at getgrowing@gmail.com.
Guidelines: Please keep your comments smart and civil. Don't attack other readers personally, and keep your language decent. Comments that violate these standards, or our privacy statement or visitor's agreement, are subject to being removed and commenters are subject to being banned. To post comments, you must be a registered user on toledoblade.com. To find out more, please visit the FAQ.