Local artist Brian Rood, seen here in his home studio in Temperance, Mich., is a freelance artist contracted by various licensing companies to paint Star Wars and other merchandising images.
The Blade/Amy E. Voigt
Enlarge | Buy This Image
It's the house that George Lucas built: a two-story home in the Bedford Township area, which, from the outside, is like every other house in its subdivision.
But start down the basement stairs and you begin to understand the connection between the filmmaker and the home's owner, Brian Rood.
There are a dozen or so framed fine-art prints of Star Wars characters, and scenes along the wall. Stormtroopers. Boba Fett. Luke Skywalker, and Han Solo. And yes, the Dark Lord of the Sith himself, Darth Vader.
The works are tucked away in Rood's two-room painting and digital studio.
PHOTO GALLERY: The art of Brian Rood
Check out the watercolor of Yoda in the gatefold of the Blu-ray Empire Strikes Back disc and you'll have an idea of what Rood does and how well he does it.
The image is one of hundreds of officially licensed fine-art paintings, watercolors, sketches, and digital renderings Rood has created for the likes of Lucasfilm, Disney, Paramount, and DC and Marvel comics in his work studio basement.
A painting by Brian Rood of Yoda is featured in the box set of "Star Wars: The Complete Saga."
The Blade/Amy E. Voigt
Enlarge | Buy This Image
Maybe Rood isn't well-known in the Toledo area, but nationally he is a favorite among fanboys and fangirls at comic-book conventions, Star Wars gatherings, and Disney celebrations.
The wildly successful evolution from "that dude who could draw real well in class" to producing art pieces hanging in George Lucas' office still causes Rood, 36, to ponder his creative fortune. It's a saga that begins long ago but not so far away in his junior year in Whitmer High School with a three-hour commercial art block in the vocational arts program.
"The program at Whitmer was huge to me," said the 1993 graduate. "I really enjoyed the environment. It really was like a job to me."
While the class exposed him to the potential of a career in art, namely working for the likes of Lucasfilm, it didn't tell him how to get there.
Rood found his way through a network of local independent comic-book artists he met while attending Davis College. They took him to his first comic-book convention, Wizard World in Chicago in 1996. The convention included hundreds of amateur artists lined up in rows of cramped booths, showing off their portfolios in desperate attempts to foster their industry break. Rood was in nerdvana.
"Whoa, I stumbled onto something sweet," he thought to himself. "This is the outlet I need to be at."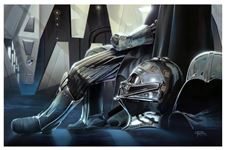 Brian Rood's work, "Confinement," is hanging in the waiting room outside of George Lucas' office. The painting depicts a restless and perhaps angry Darth Vader, with his helmet by his side, in his meditation chamber.
PROVIDED TO THE BLADE
Enlarge | Buy This Image
Rood made a point of attending all the regional shows, sitting at booths, networking, and hoping to make the right connections to launch his career, and was buoyed by family — wife Michelle, parents Dinah and George, and in-laws Tom and Sue Kay — SBA loans, and credit cards. He also sent hundreds of blind samples of his work each year to art reps in New York, Los Angeles, and around the world, and would usually receive only 10 replies — mostly indifferent .
Rood was never deterred.
"You've got to put in the hard work, man," he said. "There's a lot of people out there that are way more talented than me ... but they don't have the social skills, they don't have the marketing skills, they don't have the work ethic."
His patience and diligence was rewarded in late 2003-early 2004 with the opportunity to design 500 sketch cards for a Topps Trading Card series commemorating the release of Star Wars: Episode III — Revenge of the Sith. Steve Sansweet, who owns the largest private collection of Star Wars merchandise in the world and is the former director of content management and head of fan relations at Lucasfilm, had been promising to get Rood in at the studio for years.
"The first time I met Brian at a convention many years ago I was impressed by both the quality of his art and the fact that he seemed like a really down-to-earth guy — despite being a Star Wars 'fanatic' like me!" Sansweet said via email. "I remember asking whether he'd ever done any Star Wars art 'professionally,' meaning licensed. And when I found out the answer was no, I did everything I could to get him connected."
Brian Rood created the artwork for this Spiderman game.
The Blade/Amy E. Voigt
Enlarge | Buy This Image
The Topps card gig proved to be the connection Rood needed, and quickly led to other licensed opportunities with Lucasfilm, including creating an original painting for the Star Wars Celebration III fan gathering and selling 250 copies of the work at the event.
The list of works has grown from there, including toy packages, comic-book covers, coffee mugs, DVD box art as well as the limited-edition fine-art reproductions and artist's proofs Rood sells on his Web site, brianrood.com, eBay, and elsewhere, and range in price from $50 to $1,500. Rood can pick up a year's worth of work from a single visit to ComicCon in San Diego, his favorite of the conventions, having made the trek 17 consecutive years. But he's also found work designing Stern's World Poker Tour pinball machine, and creating commercial storyboards for the Big Three automotive companies.
Rood is a freelance illustrator, "essentially a work for hire." His main employers are companies such as ACME Archives Direct, which obtain the licensing rights for properties such as Star Wars and Disney. Rood is contracted for these projects, while other pieces of art he creates may be bought directly by companies such as Lucasfilm. Once Lucasfilm buys one of Rood's works, it goes into a licensing program and can appear anywhere, including this year's Valentine's Day Star Wars coffee mug filled with candy available at Target.
"I don't have much say in what's going on," he said, "I just kind of sit back and let it roll."
Not that Rood would complain.
"Lucasfilm has done a lot for me. They're like my mainstays," he said.
So is his two-story home the house that Lucas built?
"To a degree," he replies. "Whether he knows he has, he has provided me with a lot of opportunities. I would love to meet the guy and just say thanks."
Contact Kirk Baird at: kbaird@theblade.com or 419-724-6734.
Guidelines: Please keep your comments smart and civil. Don't attack other readers personally, and keep your language decent. Comments that violate these standards, or our privacy statement or visitor's agreement, are subject to being removed and commenters are subject to being banned. To post comments, you must be a registered user on toledoblade.com. To find out more, please visit the FAQ.