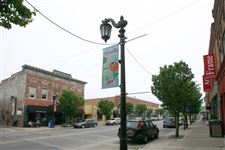 The Blade/Andy Morrison
Enlarge | Buy This Image
Artists are being sought to design a mural on a city-owned building.
The Downtown Sylvania Association Design Committee and the Sylvania Community Arts Commission seek a design embodying the spirit of downtown Sylvania and the Historical Village. The mural will be on the back of 5703 Main St.
An artist who lives in or is linked to the Sylvania area is sought. Proposals should consider the vibrancy of downtown Sylvania along with the flavor of the Sylvania Historical Village. Volunteers will transfer and paint the design onto the wall, projected next summer.
The entry fee for each design is $10, with the winning designer to be awarded $250. Artists may submit up to three designs. For an application checklist and design requirements, visit sylvaniaarts.org. For information, contact the commission's executive director, Jennifer Archer, at sylvaniaarts@bex.net or 419-517‐0118.
Guidelines: Please keep your comments smart and civil. Don't attack other readers personally, and keep your language decent. Comments that violate these standards, or our privacy statement or visitor's agreement, are subject to being removed and commenters are subject to being banned. To post comments, you must be a registered user on toledoblade.com. To find out more, please visit the FAQ.