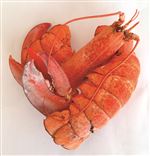 Hannah Lehmann's mixed-media piece 'Hardened Hearts' will be among her works on display in a show opening next week at Launch Pad Cooperative. The show also will exhibit work by Julia LaBay.
Opening with a reception from 7 to 9 p.m. March 7 will be Ology Extended, new work by Julia LaBay and Hannah Lehmann, in Launch Pad Cooperative, 911 Jefferson Ave. The works explore natural history in image and theme. LaBay is earning an advanced degree in sculpture at Bowling Green State University. Lehmann examines additional themes of resources, labor, consumption, and emotion. Information: launchpadcooperative.com.
● Flora and the Flamingo, a picture book for young children with illustrations by Molly Idle, has been named a 2014 Caldecott Honor Book. An original 16.5-inch-by-10.5-inch painting of one of the book's pages was acquired last fall by the Toledo-Lucas County Public Library and hangs in the children's area of the Main Library. It was acquired for $1,200 by the library's Robert L. and Posy Huebner Collection Fund, which has paid for the acquisition of more than 200 children's book illustrations in the last 10 years. Before being framed, the precise shade of pink mat needed to match the illustration could not be found, so Terry Rousseau, owner of Deluxe Frame Shop, painted a mat. To see Idle's work, go to idleillustration.com.
● Dani Herrera will be at a reception from 11 a.m. to 1 p.m. Saturday in Downtown Latte, 44 S. St. Clair St. Herrera's work, which incorporates recycled items, will be hung in the shop through the end of March.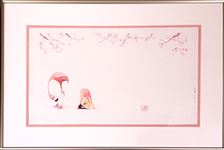 This page from the award-winning picture book 'Flora and the Flamingo' was acquired last fall by the Toledo-Lucas County Public Library and hangs in the children's area of the Main Library.
TOLEDO-LUCAS COUNTY PUBLIC LIBRARY Enlarge
● Quirky, clever designs for 10 bike racks, selected from 239 designs submitted by 114 people, have been approved by the Arts Commission. Winners, who will receive $500 each, are Bridget Mescher, Enzi Satine, Eric Broz, Jameison Staneluis, John Eikost, Holly Whitney, Larry Meyer, Nicki Schmidt, Jonathan Rogers, and Greg Lukasik. Among the designs are a fox, squirrel, paper clip, two guitars, and a bunch of bananas. The racks will be built and installed in and around downtown in the spring. In the past few years, 20 such bike racks have been placed in the Uptown and Warehouse districts near downtown. The project is funded by the City of Toledo's 1 Percent for Art Program. Information: www.theartscommission.org.
● Meet Me at TMA, at 1 p.m. Saturday, will be a free tour of art inspired by Roman and Greek myths at the Toledo Museum of Art. It's designed for people who have memory loss and their companions. Make reservations at 419-537-1999.
● Promises of Spring, pastel paintings and other work by Jeanne Beutler, can be seen through March in the Gaslight Gallery, 117 E. Crawford St. in Findlay. Beutler, who lives in Ottawa, Ohio, is also an illustrator and weaver. She'll demonstrate pastel painting during a reception from 5 to 9 p.m. March 7, which coincides with Findlay's First Friday Gallery Hop. Information: www.thegaslightgallery.org.
● A free workshop for educators about teaching storytelling skills will be 4 to 7 p.m. Tuesday in the Mazza Museum at the University of Findlay. Judy Thibault Klevins will explain story structure, visualizing and organizing a story, and more. Klevins is a theater and language art teacher in Arlington, Va. Preregistration is requested at 419-422-3412 ext. 3 or education@artspartnership.com.
● Donna Collins, of Glenford, Ohio (between Columbus and Zanesville), has been named executive director of the Ohio Arts Council in Columbus. Collins has been executive director of the Ohio Alliance for Arts Education since 1998 and executive director of the Ohio Citizens for the Arts and Foundation since 2001. She will succeed Julie Henahan, who is retiring.
● Vine & Palette, an evening of painting instruction and adult beverages, will be from 6:30 to 9:30 p.m. Tuesday in the Wassenberg Art Center, 214 S. Washington St., Van Wert. Participants may bring wine and a snack to share; the center will provide art supplies suitable to complete a canvas by evening's end. Instructing will be Matthew Temple and Hope Wallace. Cost is $30. Registration: 419-238-6837 and info@wassenbergartcenter.org.
● Three Courses, an exhibit at the Dinnerware Museum, continues through May 12 in the Museum on Main Street, 500 N. Main St., Ann Arbor. Featured is tableware and related fine art. Items are from the permanent collection as well as loans of celebrity dinnerware and ceramic snack sets created by contemporary artists. The museum is open weekends from 12 to 4 p.m. and by appointment. Information: 607-382-1415.
Send items for News of Art two weeks before the event to tlane@theblade.com
Guidelines: Please keep your comments smart and civil. Don't attack other readers personally, and keep your language decent. Comments that violate these standards, or our privacy statement or visitor's agreement, are subject to being removed and commenters are subject to being banned. To post comments, you must be a registered user on toledoblade.com. To find out more, please visit the FAQ.