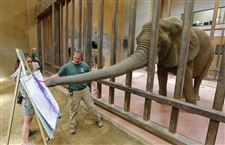 Elephant manager Ben Whitebread helps Renee paint as elephant keeper Teresa Pate steadies the easel in front of an audience at the Toledo Zoo. The activity was arranged in conjunction with 96 Elephants, a campaign by the Wildlife Conservation Society to end the sale of elephant ivory.
THE BLADE/ANDY MORRISON
Enlarge | Buy This Image
Renee is no delicate artist. She slaps the paintbrush on the page, rocking the easel while making bold vertical strokes before handing the brush back to her assistant for a new color.
The 35-year-old African elephant at the Toledo Zoo ended her painting session Monday with several abstract creations, a few of them ripped by her exuberance with the brush, and a streak of blue paint on her forehead.
The zoo arranged the activity in coordination with 96 Elephants, a campaign created by the New York-based Wildlife Conservation Society that seeks to end the sale of elephant ivory.
"It's raising awareness of the plight of elephants still in Africa, where a great many of them are slaughtered annually for the ivory trade," Jeff Sailer, executive director of the zoo, said.
Toledo Zoo elephant has a hobby -- painting from THE BLADE on Vimeo.
96 Elephants says that while there were 1.2 million African elephants in the wild in 1980, only about 420,000 remain today with poaching being a major factor for the decline. The group estimates 96 animals are killed each day for their tusks.
More than 100 zoos across the United States have joined in the campaign. Though ivory imports were banned in 1989, 96 Elephants lists the United States as the second-largest market for ivory. China and Hong Kong have the largest market.
"It's still very easy for illegal ivory to slip through the cracks and come into this country," Mr. Sailer said.
Mr. Sailer said ivory collected before 1990 can be legally sold. So dealers in the black market have learned how to artificially age poached ivory.
The zoo has set up a station near the Tembo Trail exhibit for visitors to draw and color pictures of elephants and talk to keepers about the pachyderms. The station will be open again from 10 a.m. to 4 p.m. Saturday through Monday this weekend. The art will be sent to 96 Elephants.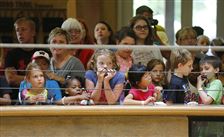 A crowd watches as elephant Renee paints at the Toledo Zoo.
THE BLADE/ANDY MORRISON
Enlarge | Buy This Image
Jen Maertin of Dundee, Mich. brought the three children she babysits to the zoo Monday and the trio spent some time coloring at the station. Ms. Maertin said she did not know the scope of the problem for wild African elephants and was glad to see the Toledo Zoo participating in the campaign.
"I guess I didn't realize they were that endangered," she said after reading a fact sheet handed out at the coloring station. "I didn't know there was such a need for this."
Ben Whitebread, elephant manager for the zoo, said he hopes the painting demonstrations will intrigue visitors and garner additional interest in elephants.
"They're so smart and they pick up on things quick," he said.
Painting is an enrichment activity for the pachyderms and helps them build relationships with their keepers.
Renee has been painting for about 25 years. Renee's son Louie, is also trained to paint, and Mr. Whitebread said his artistic style is noticeably different than his mother's. While Renee will only hold the brush one way, Louie is more flexible.
"With Louie, sometimes it's this way, sometimes that way, sometimes right down the nostril," Mr. Whitebread said.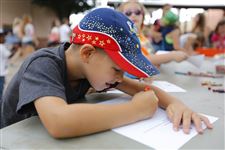 Tristan Flick, 5, of Bowling Green colors an elephant at the Toledo Zoo on Monday. The zoo will forward the paintings to 96 Elephants, a group seeking a moratorium on ivory sales.
THE BLADE/ANDY MORRISON
Enlarge | Buy This Image
Lucas, Renee's 3-year-old calf, also will learn how to paint when he's older.
"That will have to wait until he stops putting things in his mouth," Mr. Whitebread said, noting that the paint used is water-based and nontoxic so it is safe for the elephants.
Renee will paint again at 1:30 p.m. Monday. The zoo has not yet decided what will be done with her paintings.
To learn more about 96 Elephants, visit 96elephants.org.
Contact Alexandra Mester: amester@theblade.com, 419-724-6066, or on Twitter @AlexMesterBlade.
Guidelines: Please keep your comments smart and civil. Don't attack other readers personally, and keep your language decent. Comments that violate these standards, or our privacy statement or visitor's agreement, are subject to being removed and commenters are subject to being banned. To post comments, you must be a registered user on toledoblade.com. To find out more, please visit the FAQ.