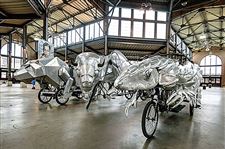 Tony Packo's and Toledo.com have joined to bring 'art bikes' to Toledo for several community events from today to early June. These unusual pedaled beasts were built to support 826Michigan, a free afterschool writing and tutoring program.
Three metal mobile "beasts" — unusual bicycles with fantastical sculptured aluminum creatures placed over the bike frames — will arrive in Toledo for a three-week stay starting today in the downtown.
The beast bicycles, which include a bison, a bear, and a pangolin, are the creations of Detroit artists Dave Eggers and Juan Martinez who built the mobile art pieces to help support 826Michigan, an afterschool tutoring program that serves the Michigan cities of Detroit, Ann Arbor, and Ypsilanti.
Tony Packo's restaurants and Toledo.com, a website that serves the greater Toledo area, are sponsoring the visit.
The bikes will make appearances today at various stops in the downtown then be parked in front of Packo's at the Park restaurant at 7 S. Superior St. from 5:30 to 9 p.m. On Saturday, they will be at the Toledo Farmer's Market at 525 Market St. from 9 a.m. to noon. And on June 3, they will be in Toledo's Old West End to take part in the King Wamba Parade, which starts at 10 a.m., as part of the Old West End Festival.
Contact Jon Chavez at: jchavez@theblade.com or 419-724-6128.
Guidelines: Please keep your comments smart and civil. Don't attack other readers personally, and keep your language decent. Comments that violate these standards, or our privacy statement or visitor's agreement, are subject to being removed and commenters are subject to being banned. To post comments, you must be a registered user on toledoblade.com. To find out more, please visit the FAQ.