In an attempt to bolster its indigenous art collection, the Toledo Museum of Art has purchased three 19th-century pieces from galleries in Santa Fe and New York.
The objects — an embroidered woman's manta, or shawl, from about 1850, a tipi cover from the mid-19th century, and a clay jar created by the people of the Santa Domingo Pueblo later that century — were purchased earlier this year with funds from the museum's Georgia Welles Apollo Society.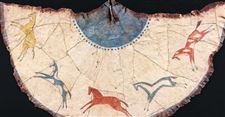 'Model Tipi Cover, Cheyenne' from about 1860 is one of 3 Native American works of art at the Toledo Museum of Art acquired for its growing collection of indigenous art from around the world.
TOLEDO MUSEUM OF ART Enlarge
The works and other 2017 acquisitions can be seen in the Canaday Gallery through New Year's Eve in the exhibition Collecting Now: Recent Acquisitions.
"We are thrilled to add these three magnificent works to the Toledo Museum of Art's collection. As we look to expand the museum's growing collection of indigenous art from around the world, the acquisition of significant works of Native American art is key," said Halona Norton-Westbrook, the museum's director of collections. "These new additions to the collection were selected for their combination of aesthetic beauty and historic significance. They bring an important and dynamic dimension to our holdings of American art and enrich our entire collection as a whole."
The Georgia Welles Apollo Society works with a museum curator every year to select artwork to purchase with membership funds and gifts to the museum, said museum spokesman Emily Desmond. This year, they worked with Norton-Westbrook to help expand the institution's collection of indigenous art, she said.
The shawl was embroidered from dyed and natural handspun yarns by members of the Acoma Pueblo tribe near Albuquerque, N.M., considered one of the oldest continuously inhabited communities of Native Americans in North America. The manta, an item worn by tribe members, is considered a rarity — one of only 35 in museums or private hands, according to information provided by museum staff. Its unique features include a Spanish floral design with prehistoric designs from the Anasazi, an ancient Native American culture.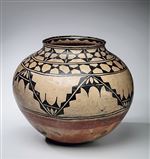 'Polychrome Pottery Jar, Santo Domingo Pueblo, 1865-1875, is among the new acquisitions at the Toledo Museum of Art.
Richard P. Goodbody Inc. Enlarge
The tipi cover was created in the mid-19th century by members of the Cheyenne tribe as a model that shows the tribe's traditions. It was sewn together in sections from animal hides and shows the colors of sky and earth as well as running horses that represent power, wealth, prestige, and courage. The pottery piece was created by members of the Santa Domingo Pueblo tribe in New Mexico. Such pieces of pottery were created to carry wheat and corn, and the tribe's pottery is recognizable by its black geometric designs.
The Georgia Welles Apollo Society was created by donors Georgia and David Welles in 1986. The museum declined to release the cost of each piece.
The museum currently has an estimated 38 Native American pieces from the United States and Mexico and more than 160 accessioned pieces from North, Central, and South America and Australia.
The manta was purchased from the Shiprock Gallery in Santa Fe, the tipi cover from the Donald Ellis Gallery in New York City, and the jar from the Morning Star Gallery, also in Santa Fe.
Additional works purchased this year by the museum include High Yella' Blue by Alison Saar (American, born 1956), an intaglio and pochoir on found handkerchief; Monday Night Mark, a painting by Jules Olitski (American, 1922-2007); Flower Messenger, Times Square, a gelatin silver print by Frank Paulin (American, 1923-2008); and Kitchen Interior with a Piglet, an oil painting by Giuseppe Recco (Italian, 1934-1695).
Contact Roberta Gedert at rgedert@theblade.com, 419-724-6075, or on Twitter @RoGedert.
Guidelines: Please keep your comments smart and civil. Don't attack other readers personally, and keep your language decent. Comments that violate these standards, or our privacy statement or visitor's agreement, are subject to being removed and commenters are subject to being banned. To post comments, you must be a registered user on toledoblade.com. To find out more, please visit the FAQ.