Artist Chad Rimer remembers the electricity he felt working in the foundry at the University of Toledo's art department like it was yesterday.
"I miss the rush, the excitement, the glowing metal, the heat," he said recently from Brooklyn, where he works as production manager for internationally known sculptor Tom Otterness. "You don't know how your casting is going to turn out. It was fascinating to see what happened; did you do everything right, did it turn out well? It's like opening a Christmas present."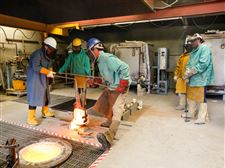 Diana Williams, left, a senior from Toledo, carries the molten bronze with instructor Jerod Christy, third from left, at the University of Toledo's art foundry. Also pictured are Kara Thornton, sophomore, from Boston, second from left; Natassja Gresham, a sophomore from Toledo, fourth from left, and Taylor Kos, a senior from Toledo.
THE BLADE/JETTA FRASER
Enlarge | Buy This Image
This semester, dozens of students taking classes at the university's Center for Visual Arts will experience that same exhilaration working hands-on in metal casting, mold-making, and welding in the program's foundry, a place where art, science, and technology make cozy neighbors.
"This is one of the most empowering experiences you can have," said Jerod Christy, UT's 3D technical assistant, who walks students through the hands-on mold-making and metal casting processes at the college. "You overcome some demons; I have had students who have faced fears about fire. You know what you can do, and that's exhilarating."
Foundry instructors use a method of casting that has endured for more than 5,000 years called the lost wax process, in which a molten metal is poured into a mold created by a wax model. The model is melted away in a 1,000-degree burnout kiln, leaving a ceramic crucible that shapes the molten metal into the artist's desired piece.
It won't be for everyone who enters the arts program, but during the formative years of their education, UT art students are required to take courses involving all art media, including 3D.
Courses offered include beginning, intermediate, and advanced sculpture, ceramics, and "Fundamentals of Form" (3D design). Two years ago, the university added a mandatory FAST class, Fundamentals of Art Studio Techniques, which takes students through all of the technologies and safety components of the CVA buildings, including tool and equipment safety.
The course diversity prepares students to use tools they may not be used to using, since the elimination of shop class at many high schools.
"I don't know that they necessarily know [what they want to do]," Christy said. "The majority of students who come in are comfortable in their understanding of 2D painting and drawing because that's what they are familiar with."
Rimer was one of those students.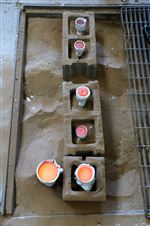 Poured molds cooling in the sands.
The Blade/Jetta Fraser
Enlarge | Buy This Image
"Coming out of high school, I was more interested in being an art teacher," said the artist, who now manages a crew of three other sculptors and visits foundries all over the world to oversee production and installation of Otterness' sculptures. "As I took more and more art classes, I became more engaged in actually creating the work, especially in sculpture."
The CVA's Center for Sculptural Studies was built in 1994 at the Oakwood Avenue and Collingwood Boulevard near the Toledo Museum of Art campus to house the department's sculpture and metalwork programs. The 7,000-square-foot building used a simplified design by famous California architect Frank Gehry and was the final puzzle piece in a $20.4 million development project that 1993 included the construction of the much-more elaborate 51,000-square-foot CVA beside the museum.
The museum provided art courses for UT beginning in 1921 and continued a partnership with the university until the museum's art department fell under UT's sole control in 1987. TMA hired sculpture professor Tom Lingeman in 1979.
"They were looking for someone to start up the foundry, because they had so many bronzes in the collection," said Lingeman, who today teaches sculpture, fundamentals of form, and drawing at UT. When he started with the program almost 40 years ago, he taught university and museum students in the same classes.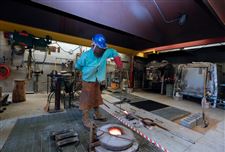 Jerod Christy, technical assistant in 3d and sculpture, in the foundry.
The Blade/Jetta Fraser
Enlarge | Buy This Image
The furnaces installed at the CVA's Center for Sculptural Studies were built in the 1960s and '70s and were originally designed to be used in high school shop classes and vocational school programs, Christy said.
"When schools shut down these programs, universities started to buy them up," Christy said.
Lingeman said the main burnout kiln used to melt wax out during metal pours was built with the assistance of retired Owens-Illinois engineers and was used in the original crafts glass building to the west of the museum.
The foundry's tentacles reach outside the walls of the university art department, extending as a resource to regional artists and community projects. The bronze sculpture of James A. Rhodes, Ohio's longest-serving governor, that stands outside One Government Center, was recast by a six-person team of faculty members and students at the foundry in 2004. Seattle sculptor Hai Ying Wu spent several months with students and staff in the foundry in 2000 and 2001 creating two bronze sculptures of picketing workers installed at Elm and Champlain streets in Toledo as a memorial to the 1934 labor violence.
"The foundry is an important hub for all of these other external situations and opportunities," said Barbara Miner, chairman of UT's art department. "Bowling Green State University has a great glass program; what we have is the foundry."
In the 2016-17 school year, 156 undergraduate students were enrolled in UT's bachelor of fine arts program, working with a budget of $108,882.
Even if a UT student attends the school with a specific plan for art specialization, they will have the opportunity to explore everything. Instructors require that students take introductory classes in painting, sculpture, and other media.
"It really grounds them, and not only helps them find their passion, but rounds out their skills set," Miner said.
Kara Thornton, 22, a sophomore in the fine arts program, came to Toledo from Boston and started her career in glassblowing but found she has enjoyed a second 3D trade: metal casting.
During a recent Thursday morning 3D class, she suited up with Christy and four other classmates to man the metal pour as their pieces were pulled from the 2,000-degree kiln.
"I will probably continue in this direction," she said, taking off her safety mask. "Creating the molds and pouring the metal, it's a really neat program. I don't know how many others have [a foundry], but it's nice we have access."
Taylor Kos, 22, a senior bachelor of fine arts student who specializes in ceramics and sculpture, was also one of the students at the pour. Two of the pieces were hers, part of a Russian nesting doll set she was making.
"I like the skill factor with sculpture," she said. "I can make small pieces up to very large pieces. I thought I would be doing more graphic design projects but ended up falling in love with the sculpture part of it. It's beyond just having something on a computer."
She did, however, use the department's 3D laser engraver to help with her sculptural design, a clear sign that computer technology will be a strong part the future of 3D art.
So what does that future look like for fine arts students who specialize in metal casting?
According to the Melting Point, a publication released by the American Foundry Society and Institute, more than 30 universities and independent colleges have foundries, although many are operated out of engineering departments.
Some universities have done away with foundries and casting programs within their art curriculums, citing expenses and safety, according to an article published by the Chronicle of Higher Education.
Lingeman doesn't necessarily agree that foundries are pricing themselves out of the educational market but does believe the demand for permanent figurative sculptures that art foundries were once most known for producing is diminishing. Therefore, teaching students the foundations of sculptural technology is key, he said.
"I think that is the going to be the future of 3D art," Lingeman said. "You give the students the tools, and if they know how to utilize the tools, they can take it from there. We try to be as comprehensive as possible with the curriculum."
In decades past, artists frequently relinquished control over the last steps of the casting process. Famous late-19th century sculptor Auguste Rodin, perhaps best known for his piece The Thinker, considered sculpture a collaborative process. Often he would create his original clay masterpieces but farm out the tasks of replicating plaster casts and creating the final bronze pieces. Many were cast after his death.
Artists today are returning to the metal casting process, Christy said. He estimated that between 60 to 90 students use the shops every semester, and they aren't all from the art program. Engineering and architectural students are frequently seen participating in classes.
"It hasn't been so many decades, these lines have kind of blurred between artist, designer and technician, engineer," Christy said.
Christy points out that most of the students in his classes now are in art education, and most are women. They will decide relevance in the future, he said.
"The foundry work and metal work was dominated in the industry by men," he said. "This next generation of people who will be teaching will be deciding what the value of it is, if they find it valuable to have in their classrooms at a primary, elementary level; it will be up to them."
The American Foundry Society and Institute in Schaumburg, Ill., advocates and provides research and grant support for the metal casting industry and also provides university support through student chapters.
Graduates with skills in foundry work can go into such skilled trades as mold making, pattern making, or tooling. Some art students interested in sculpture jump the fence into engineering, said Shelly Dutler, director of education for the society.
"In order to make that art sculpture, there's a lot of science in metal casting that the artist has to know," she said.
If you're having a hard time picturing a life beyond the towering bronze figure of Gov. Rhodes in downtown Toledo, think about the sink faucet, wheels on a car, artificial knees and hips, bridge supports, or the die-cast Hot Wheels cars in your son's bedroom.
"You're never more than a few feet away from a metal casting," Dutler said.
Contact Roberta Gedert at rgedert@theblade.com, 419-724-6075, or on Twitter @RoGedert.
Guidelines: Please keep your comments smart and civil. Don't attack other readers personally, and keep your language decent. Comments that violate these standards, or our privacy statement or visitor's agreement, are subject to being removed and commenters are subject to being banned. To post comments, you must be a registered user on toledoblade.com. To find out more, please visit the FAQ.