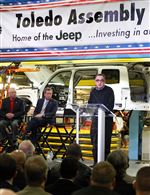 Chrysler's Sergio Marchionne, right, details plans for the Toledo complex. With him Wednesday were Ken Lortz, UAW Region 2B director, left, and Gov. John Kasich.
the blade/dave zapotosky
Enlarge | Buy This Image
In what the mayor termed "a blood transfusion" for the city, Chrysler Group LLC on Wednesday announced an expected but still breathtaking investment that will produce 1,100 new jobs and up to four new vehicles for its Toledo Assembly complex.
The complex, which makes Jeep Wrangler and Jeep Liberty as well as Dodge Nitro sport utility vehicles, is to receive $500 million to expand and retool one of its factories to make, in 18 months, a Fiat-based replacement for its Liberty and to pave the way for the plant to make up to four more vehicles.
In many ways, the expansion makes the complex a linchpin to Chrysler's future. It is preparing to integrate its own technology with that of its owner, Fiat SpA, and make world-designed vehicles that could have more exports than domestic sales -- something the automaker has not traditionally done.
Sergio Marchionne, chief executive officer of Chrysler and Fiat, who made the announcement at an event attended by hundreds of workers and several dignitaries, talked about the renowned Jeep brand and Toledo's storied history with the product.
"The decision we made clearly demonstrates the confidence we have in the Toledo Assembly complex, in its future, and, moreover, in the commitment and quality of work of the people who work here," he said. "It also reinforces the special relationship between Chrysler and the city of Toledo."
RELATED ARTICLE: Expansion lifts hopes of Toledo-area's unemployed
PHOTO GALLERY: Chrysler CEO Sergio Marchionne at Toledo Assembly Complex
He made his remarks as he stood in front of a large banner that read, "Toledo Assembly Complex -- Home of the Jeep … Investing in an American Legend."
Prototypes of the Liberty replacement -- code-named Jeep K-L -- will be made after the plant is shut down next fall for four or five months to allow the retooling to be installed. Production of vehicles to be sent to car dealers is to begin by spring, 2013. Later that year, Chrysler expects to hire about 1,100 workers when it adds a second shift to the factory, which now is the only Chrysler plant with just one shift a day.
Unaffected is the neighboring group of four factories that make the Jeep Wrangler.
The added production at the 312-acre Toledo Assembly plant likely means 400 to 500 added jobs at area parts suppliers, one union official said.
Chrysler said it is spending $1.7 billion in design, engineering, retooling, labor, and marketing to launch the new Jeep product and that $500 million is being spent specifically in Toledo. The local complex, however, will benefit from the research and development that are included in the remaining $1.2 billion.
Neither Mr. Marchionne nor other company officials revealed the name of the Liberty replacement.
It could be given the Cherokee name, which was used on the SUV that the Liberty replaced a decade ago and also is used on overseas models of the Liberty.
Standing in front of two half-assembled Dodge Nitro vehicles perched on the plant's assembly line, Mr. Marchionne made the morning announcement to cheers of several hundred plant workers. Jeep employees had been eagerly awaiting the decision since August, when key details of the automaker's plans were revealed by The Blade from documents the company filed with the state of Ohio and city of Toledo.
Not only will a replacement for the Liberty be made, the company chief said at least one more vehicle will be made in the plant. Presumably it will be a replacement for the Nitro, which is to end production next month. Mr. Marchionne said up to four new vehicles could come to the Toledo complex, but none will be knockoffs of each other, as he said the Nitro was from the Liberty.
'Additional car here'
"There will be an additional car here. It will be another vehicle, but significantly different from Jeep," Mr. Marchionne said.
Some industry analysts have speculated that new vehicles could be Alfa-Romeo or Lancia models, which Fiat makes. Fiat is Chrysler's majority owner, having allied with Chrysler in 2009 as a condition for the firm to emerge from a U.S. government-controlled bankruptcy.
"You have to understand that the investment we are talking about -- $1.7 billion -- is an exorbitant amount of spending," Mr. Marchionne said. "It's a very large number for one vehicle. The reason why that money is being spent is to make sure the architecture has all the flexibility to build additional 'top hats' …and hopefully they will be built here."
''Top hats" is an auto industry term that refers to the car bodies that sit atop a common car frame.
Most of the new investment in Toledo will be on a 260,000-square-foot expansion of the plant's body shop, where the first stage of making a vehicle occurs. The company also will build a 26,000-square-foot metrology center to ensure precise fit and finish during assembly. Two other small additions will be made to the plant, Chrysler said.
Work on the additions is to begin next month and continue into 2012, the company said.
Among Jeep workers cheering at the announcement were Beverly Marsh, left, and Teresa Hoffman. The Chrysler CEO expressed his faith in the work force at the Toledo complex.
The Blade/Dave Zapotosky
Enlarge | Buy This Image
All hiring will be done through the company's Web site, chryslercareeers.com.
Also at the announcement at the Toledo Assembly plant in North Toledo were Ohio Gov. John Kasich, U.S. Rep. Marcy Kaptur (D., Toledo), United Auto Workers Region 2B Director Ken Lortz, Toledo Mayor Mike Bell, and Toledo Assembly manager Mauro Pino.
State and local officials praised Chrysler's commitment to the local plant, and Mr. Kasich, whose comments were followed by a smattering of "boos" from some workers, reaffirmed his administration's commitment to provide just more than $12 million in incentives and tax credits to aid the automaker's investment. "Manufacturing has to come back, and it is coming back to our state," the governor said. He has taken criticism from some that he did not support the federal bailout in 2009 of Chrysler. Others contend the bailout saved the company and that without it, no such announcement would have been made this week.
Mayor Bell, apparently referring to the city's high unemployment and poverty rates, said, "To me, this is the equivalent of a blood transfusion for our city.
Miss Kaptur, paying homage to Mr. Marchionne's Italian nationality, thanked the chairman for the company's investment by turning to him and shouting, "Bravo! Bravo! Bravissimo! Grazie!"
Later, hailing Jeep as "a global trademark" that symbolizes its hard-working employees and the city they live in, Miss Kaptur said both had developed a strong relationship with Mr. Marchionne.
"You know, Mr. Marchi- onne, we like you. We like you a lot. Thank you for liking us," she said.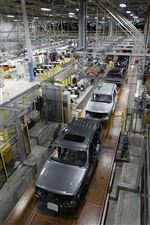 Jeep Libertys made at the complex are to be replaced by a yet-unnamed model.
The Blade/Andy Morrison
Enlarge | Buy This Image
Liberty-sized vehicle
The Chrysler chairman said the next-generation Jeep will be a Liberty-sized vehicle that will have a basic design -- or architecture -- created by Fiat engineers. But its overall look and powertrain will be "absolutely American," Mr. Marchionne said.
He said the company plans to export the new vehicle to markets all over the world.
Chrysler now exports the Toledo-made Jeep Wrangler and the Liberty overseas, but only about 5,000 leave U.S. shores.
UAW officials said Chrysler executives have said they envision that 50,000 to 60,000 of the Liberty replacements could find their way annually to Europe, Latin America, and Asia.
"Jeep is at the heart of our plans to internationalize Chrysler, a process which is being accelerated by Chrysler's access to Fiat's distribution capabilities in both Europe and Latin America," Mr. Marchionne said.
Dan Henneman, Jeep unit chairman for UAW Local 12, which represents about the 1,700 hourly workers at Toledo Assembly, said the union has been told that Dodge Nitro production at the plant will end Dec. 16 and that Liberty production will end the first week of August, 2012. That will idle about 900 workers currently making those two vehicles.
Through October, the factory has churned out 61,553 Libertys and 22,047 Nitros this year.
Mr. Marchionne said building the Nitro was a mistake from the beginning.
"The Nitro should have never have been built. I hate to say this, but as you can see from the vehicle, it's a knockoff of the Liberty," he said.
When Chrysler commits to a second vehicle from the new Liberty frame, that second car "has to be functionally different" from the new Liberty, he added.
Retooling of plant
Mr. Henneman said that once Liberty production ends, Chrysler will retool the plant for the new SUV, a move that should take four or five months.
"This is huge. They'll retool this plant; they'll add on to the body shop; they'll expand our paint shop, and add on at least 1,100 people," he said.
Bruce Baumhower, Local 12 president, said the addition of jobs at Toledo Assembly will undoubtedly mean more jobs at the plant's parts suppliers.
"Our supplier industry here in Toledo that supplies this facility will now have to look at their capacity," he said.
For example, when Toledo Assembly was running two shifts in the past, so too was Johnson Controls, which produces instrument panels and seats. "I think there's probably 400 or 500 more jobs in the supplier industry for our direct suppliers" he said.
UAW officials said they have been told to expect that Liberty and Nitro workers laid off during the plant retooling and their retraining should be called back in January or February, 2013.
Once any prototype problems are ironed out, commercial production will begin, most likely late in the first quarter. Meanwhile, Chrysler will begin hiring and training workers for the second shift, which could start right after the traditional July, 2012, plant shutdown for retooling.
"It's a very aggressive schedule Chrysler has planned, to move all those people back into a new system, get them all trained, and then hire, train, and add a second shift," Mr. Henneman said.
The union leader at the plant said the most exciting part is that the plant will be re-engineered to quickly add other vehicles if Chrysler or Fiat wants them. Analysts and auto experts have said the complex could accommodate production of up to seven different vehicles, should Chrysler desire.
"They have told us nothing about additional vehicles. And putting that money out is something Chrysler does very carefully," Mr. Henneman said. "But we would think they have more plans."
Pickups possible?
What models Toledo will build is a small mystery, said Tracy Handler, an automotive analyst at IHS Automotive.
Chrysler officials haven't released any specifics, leaving analysts to speculate that the plant could produce a Chrysler-badged crossover, a Lancia crossover for export, and possibly a new Alfa-Romeo SUV.
Ms. Handler said there's been added talk about a Jeep pickup or possibly a Dodge lifestyle pickup. "That's something we could maybe see there in Toledo," she said.
As Chrysler focuses on making the Jeep brand international, Ms. Handler said, she expects the Liberty's replacement to be front-wheel-drive based and a bit narrower than the current model.
"I'd like to see Chrysler kind of stick with the Jeep heritage -- keep it looking a bit more, for lack of a better word, 'masculine' looking," she said.
Ms. Handler added that the company will have to be careful to strike a balance between creating a car for the world market and keeping the notoriously loyal traditional Jeep buyers happy.
Contact Jon Chavez at: jchavez@theblade.com or 419-724-6128.
Guidelines: Please keep your comments smart and civil. Don't attack other readers personally, and keep your language decent. Comments that violate these standards, or our privacy statement or visitor's agreement, are subject to being removed and commenters are subject to being banned. To post comments, you must be a registered user on toledoblade.com. To find out more, please visit the FAQ.