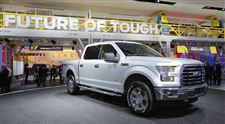 The 2015 Ford F-150 at the North American International Auto Show in Detroit on Monday.
THE BLADE/ANDY MORRISON
Enlarge | Buy This Image
DETROIT — Some call it a game-changer. Some just shake their heads. Either way, Ford's new aluminum-clad F-150 is such a radical departure from past pickup trucks that it dominated talk at the opening of the Detroit auto show.
Ford Motor Co. unveiled the 2015 F-150, whose body is 97-percent aluminum, on Monday. The lighter material shaves as much as 700 pounds off the 5,000-pound truck, a revolutionary change for a vehicle known for its heft and for an industry still reliant on steel. No other vehicle on the market contains this much aluminum.
RELATED CONTENT
"It's a landmark moment for the full-size pickup truck," said Jack Nerad, editorial director for Kelley Blue Book.
The change is Ford's response to small-business owners' desire for a more fuel-efficient and nimble truck — and stricter government requirements on fuel economy. It sprang from a challenge by Ford's CEO to move beyond the traditional design for a full-size pickup.
"You're either moving ahead and you're improving and you're making it more valuable and more useful to the customer or you're not," Chief Executive Alan Mulally said in a recent interview.
Ford won't say what the new truck's fuel economy will be, but two people familiar with the truck told Bloomberg News it will be close to 30 miles per gallon on the highway. Chrysler's Ram is the current leader at 25 mpg on the highway. The top-rated pickup in the F-150 lineup for the 2014 model year has a 23 mpg highway rating.
It remains to be seen if customers will accept the change to aluminum.
"Trucks are put to such hard use. They take bangs and dings and a lot of hard use," Mr. Nerad said. "We'll see how the use of lightweight aluminum plays out in the field."
Pete Reyes, the F-150's chief engineer, said the company planted prototype F-150s with three companies — in mining, construction, and power — for two years without revealing they were aluminum. The companies didn't notice a difference.
F-Series trucks — which include the F-150 and heavier duty models like the F-250 — have been the best-selling vehicles in the United States for the last 32 years; last year, Ford sold an F-Series truck every 41 seconds. Ford makes an estimated $10,000 profit on every F-Series truck it sells.
Michael Robinet, the managing director of IHS's automotive group, says the trucks account for about a third of the company's revenue in North America — $80 billion in 2012.
"Anytime you make a change with that vehicle, it's got to be well thought out, because you are really playing with the crown jewels of that company," Mr. Robinet said.
The 2015 F-150 goes on sale late this year. Ford wouldn't reveal prices, but its truck marketing chief Doug Scott says the F-Series will stay within its current price range even though aluminum costs more than steel. F-Series trucks now range from $24,445 for a base model to $50,405 for a top-of-the-line Limited.
Competitors aren't panicking, but they're on notice. Chrysler CEO Sergio Marchionne, whose company makes Ram trucks, said he'll be watching the Ford truck carefully. Still he believes cost will remain a big barrier to the wider adoption of aluminum.
"We've looked at it, but right now I can't make the weight-to-cost benefit analysis to work," he said.
Mr. Reyes said Ford expects to make up for the higher cost of aluminum by slimming down the engine and other components, because they won't have to move so much weight, and by reducing its recycling costs, because there will be less metal to recycle.
Up to now, Ford limited the aluminum on its trucks to the hoods and used steel for the rest.
The chatter about the switch from steel to aluminum overshadowed other changes in the new F-150.
Ford added a 2.7-liter EcoBoost engine, the smallest-displacement powertrain in its truck lineup.
The truck shares many of the same features as the Atlas concept truck that was lowered from the roof of the Joe Louis Arena during last year's show. These include LEDs in the headlights, taillights, cargo box, and side mirrors, and fuel-saving technology that shuts off the engine when the truck is stopped.
Ford also added cameras to the F-150's exterior to give drivers a 360-degree overhead view that makes parking easier and a rear camera that simplifies the process of lining up a trailer with the truck hitch, using a new 8-inch LCD screen.
Guidelines: Please keep your comments smart and civil. Don't attack other readers personally, and keep your language decent. Comments that violate these standards, or our privacy statement or visitor's agreement, are subject to being removed and commenters are subject to being banned. To post comments, you must be a registered user on toledoblade.com. To find out more, please visit the FAQ.