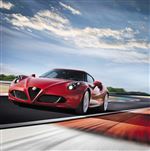 2015 Alfa Romeo 4C debuts at New York International Auto Show.
PR NEWSWIRE Enlarge
DETROIT — Chrysler Group LLC said on Monday its head of U.S. sales, Reid Bigland, has been named to lead the Alfa Romeo brand for North America as it prepares for a relaunch aimed at reaching sales of 150,000 in four years.
Mr. Bigland, 47, joined Chrysler in 2006 to head its Canadian operations, a position he will keep. He will be in charge of relaunching the sporty Alfa Romeo brand, which has not been sold in the United States and Canada since 1996.
Chrysler, owned by Fiat SpA, also said that Robert Hegbloom will head its Ram Truck brand.