Fiat Chrysler Automobiles will begin producing the Jeep Wrangler-based pickup in 2019, a top company executive said.
Mike Manley, who leads the Jeep brand for Fiat Chrysler, confirmed the timeline to reporters at an event in Texas last week. The truck will be built in Toledo at the same assembly complex that builds the two- and four-door Wranglers.
Fiat Chrysler officials previously told The Blade production would begin by 2020. Some analysts had expected it to begin as early as next year.
Whenever the new truck arrives in showrooms, it will likely get a strong reception.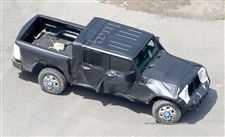 This is a spy photo of a masked Jeep Wrangler pickup truck, shot in July, 2016.
CHRIS DOANE AUTOMOTIVE Enlarge
"It's eagerly anticipated, there's no doubt about that," said Jack Nerad, executive market analyst with Kelley Blue Book. "Jeep dealers and probably FCA in general wishes it was available even sooner because Jeep has been the bright spot for them. It's just been a terrific boon to FCA. You kinda wonder where they'd been without Jeep."
The Jeep brand made up 41 percent of the company's U.S. sales last year. Fiat Chrysler sold 191,774 Wranglers in 2016, down slightly from 2015's record year. However, Wrangler sales are up 3 percent through this year's first two months.
This year will be the last full year of production for the current edition of the Wrangler. A new model — upon which the truck will be based — will go into production late this year.
Fiat Chrysler hasn't said exactly when, but union officials have told The Blade full production should begin in November. Officials with the union couldn't be reached on Monday.
To make room for the truck and next-generation Wrangler, Fiat Chrysler is shipping production of the Jeep Cherokee to a plant in Illinois. The last day of Cherokee production here is scheduled to be April 7.
The automaker has kept most details about the truck under wraps. Photographs did emerge last summer of a heavily camouflaged test vehicle, though little could be gleaned from them. It did appear, however, that the truck may have a longer wheelbase than the current four-door Wrangler.
Analysts have said in the past they expect annual sales of the Jeep pickup to be in the range of 40,000 units per year in the United States. However, with Americans increasingly shunning cars in favor of trucks, some believe there could be more potential.
There are not a lot of players in the midsize pickup market, but those models that are there have been enjoying success. Sales of the pack-leading Toyota Tacoma were up 7 percent to 191,631 in 2016, while sales of the General Motors Chevrolet Canyon and GMC Colorado twins rose 28 percent to 146,176. Ford Motor announced plans in January to bring back the Ranger pickup.
Mr. Nerad said the Jeep truck will compete to some extent with those vehicles, but also will stand somewhat in a class of its own — much the way the Wrangler does.
Adding a pickup bed could do for the model what adding two more doors did.
"It just seemed so obvious once you see it, but we went decades without it," he said. "I think when we see the pickup truck version we're going to see the same thing."
The loss of Cherokee is expected to take with it several hundred supplier jobs around the area. However, union officials and business leaders say the Wrangler truck should bring new jobs with it that help offset some, if not all, of those losses.
Contact Tyrel Linkhorn at tlinkhorn@theblade.com or 419-724-6134.
Guidelines: Please keep your comments smart and civil. Don't attack other readers personally, and keep your language decent. Comments that violate these standards, or our privacy statement or visitor's agreement, are subject to being removed and commenters are subject to being banned. To post comments, you must be a registered user on toledoblade.com. To find out more, please visit the FAQ.