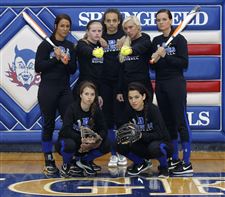 Springfield looks for another NLL title with, front, from left, Libby Mathewson and Brianna Espino, and back, from left: Hannah Girlie, Bre Buck, Kierra Hague, Lauren Yates, and Kiley Aller.
THE BLADE/LORI KING
Enlarge | Buy This Image
The seasoned Springfield softball team will feature powerful hitting and strong pitching as the Blue Devils strive for a third straight Northern Lakes League title.
The Blue Devils have won five of the last nine titles and reached the state semifinals in 2010. With 12 players returning, including two of the NLL's top pitchers and hitters, Springfield is the favorite to win the league championship again.
Junior shortstop Hannah Girlie hit 10 home runs to help Springfield set a school record with 27 homers. Senior pitcher Bre Buck went 18-2 and had a 1.09 ERA. Both earned All-Ohio first team honors.
"We have a veteran, experienced team with strong pitching and overall hitting," Springfield coach Rob Gwozdz said. "I expect to compete for a third straight league title. The NLL is loaded with great teams year-in and year-out. We need to be ready to play each and every game or anyone can beat us."
The Blue Devils' strongest competition this season will come from Southview and Anthony Wayne. Both teams tied for second in a preseason coaches poll.
The Cougars feature a strong senior class and seven returning starters led by pitcher/​outfielder Bri Michel. The Generals have eight starters back, including sophomore pitcher Kaitlyn Ray, who led the league with a 1.04 ERA.
The NLL has had four teams reach the state semifinals since 1990. Perrysburg (1991) and Anthony Wayne (2003) have both won state titles.
Springfield (25-4, 13-1 NLL last year) climbed to as high as No. 5 in the state Division I coaches poll. But the Blue Devils fell to Notre Dame in the district semifinals.
Gwozdz, who has compiled a 232-95 record entering his 13th season, has four seniors and eight returning starters.
Girlie finished with a .469 average and drove in a league-high 48 runs to earn All-NLL and all-district first team.
Junior Kiley Aller (CF) finished with a .398 average to take all-district, first-team honors.
Buck (P/​OF) batted .387 with 36 RBIs and has signed to play at Owens Community College. Senior pitcher Lauren Yates, who will also play at Owens, had a 6-2 record and 2.59 ERA.
Junior Brianna Espino (3B) posted a .415 average and finished second in the league with 38 RBIs. Junior Libby Mathewson (2B) posted a .441 average and 23 RBIs. Sophomore Kierra Hague (C) had a .406 average.
Southview (19-10, 12-2) has seven starters back for coach Jim Zoltowski.
Michel (P/​IF/​OF), an All-NLL first-team pick, is a four-year starter and had 46 strikeouts in 60 innings. Senior Hanna Gerken (OF) also is a four-year starter.
Senior Chelsea Zoltowski (1B/​OF) earned All-NLL second team and is a three-year starter along with senior shortstop Lindsey Moyer and senior Taylor Dunlap (2B). Sophomore Liz Hamway (3B) and senior Errica Herzog (C) also return.
Zoltowski said the younger players need to gain experience and his team must stay healthy to contend.
Sarah Klepzig (P), who led the NLL in hitting last season, has opted not to play.
Anthony Wayne (19-11, 9-5) has a new coach as Ronald Myers takes over for Carolyn Vogtsberger, who led the Generals for 20 seasons.
AW won a district championship last year and Myers, who spent five years at Bowsher, inherits nine seniors and eight starters.
Senior McKenzie Rhodes (2B/​3B), senior Logan Rupp (2B/​P) and sophomore Kaitlyn Ray all earned All-NLL second-team honors.
Junior Autumn Dickey (SS), junior Kaley Corcoran (C), senior Emma Hoffman (3B/​C), senior Alexis Reihing (OF), and senior Haley Olvera (OF/​C) also return. Dickey batted .351 with 16 RBIs, while Olvera had a .248 average.
Myers said the pitching combo of Ray and Rupp will be a strength along with the catching of Corcoran. Ray had 198 strikeouts in 141 innings. Rupp (7-3) had a 3.26 ERA.
"Anthony Wayne will be in position to complete for another district title and contend for the NLL," he said.
Perrysburg (10-16, 5-9) has four seniors and seven starters back for coach Ryan DeMars, who is in his fifth season.
Sophomore catcher Tylah Remaley batted .347 to earn all-league second team. Senior Taylor Tafelski (LF) had a .325 average. Senior Kayleen Jurski (P) batted .346 with 22 RBIs, but will not play because of surgery to remove a cancerous tumor from her lung.
"We have a great deal of experience on the field," DeMars said. "Last year we started four freshmen, and that year of experience will be incredibly valuable. Our defense should be much improved, and I believe we will be a much better hitting team this year."
Northview (14-11, 6-8) should have good team defense and senior leadership, according to eighth-year coach Todd Omey. He has six seniors and five returning starters.
Senior Lori Myer (SS) earned all-district first team after hitting .419 with 25 RBIs. Senior Cassidy Ghesquiere (SS) batted .359 with 15 RBIs.
Senior Maddie Garrow (P/​3B), junior Kelsi Omey (CF), and sophomore Rylee Garrow (OF/​IF) also return. Garrow had 28 RBIs and a .395 average.
"We're looking forward to seeing how we compete with the top teams," Omey said. "We want to finish in the top half."
Maumee (18-9, 7-7) should have good power and be sound defensively for second-year coach Shawn Watson. Five seniors and five starters return.
Senior Sam Fowls (P/​OF), junior Salwa Al-Hajabed (3B), senior Emily Young (SS), sophomore Evyn Kachenmeister (1B), senior Janie Hudson (CF), freshman Kayla Wulff (C/​IF), and senior Rachel McClellan (C) are the top returners.
Al-Hajabed batted .407 with 26 RBIs, while Kachenmeister hit .400 with 18 RBIs. Fowls (.393) drove in 22 and Hudson (.344) had 14 RBIs.
"The younger players will need to step up for us to compete," Watson said. "We have two dominating pitchers."
Fowls (12-7) had a 3.26 ERA. But Watson said the pitchers must not overthrow and walk batters. He also is starting four first-year players.
Napoleon (8-16, 3-11) is led by first-year coach Ken Boland who will have seven starters back.
Senior Allison Lamming (P/​2B) had a .295 average and 5.77 ERA. Senior Julianna Wulf (OF) also returns along with junior Danielle Moore (OF), junior Madison Smith (2B/​3B), junior Beth Homan (OF, .339 average), junior Mia Rausch (C/​SS) and sophomore Rachel Pilkington (P/​1B/​3B with a .334 average).
"We will be very athletic at every position," Boland said. "We will be solid on offense."
Bowling Green (6-21, 1-13) has good chemistry and younger players have created competition for starting positions.
"A lot of players picked up some varsity experience last year, so we're hoping that experience translates into a more competitive team this year," coach Jim Cress said.
The returning starters are seniors Hanna Williford (P/​OF), Reagan Morman (2B), Kelsey Parker (1B), and Hanna Addy (C) along with juniors Emily Sidle (3B), Anna Szabo (SS/​OF), Harper Craft (OF), and Angie Hoffsis (OF/​2B). Williford had 90 strikeouts in 120 innings with a 4.13 ERA.
Contact Mark Monroe at: mmonroe@theblade.com, 419-724-6354 or on Twitter @MonroeBlade.
Guidelines: Please keep your comments smart and civil. Don't attack other readers personally, and keep your language decent. Comments that violate these standards, or our privacy statement or visitor's agreement, are subject to being removed and commenters are subject to being banned. To post comments, you must be a registered user on toledoblade.com. To find out more, please visit the FAQ.