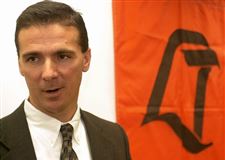 Meyer: eager to start drills
BLADE Enlarge
BOWLING GREEN - There is a part of Urban Meyer that probably wishes that Bowling Green State University's football opener at Missouri would be today. He has planned and dreamed and waited a long time to be a Division I head coach.
There is also a part of Meyer that probably wishes the Falcons had another year to prepare for that game, not just five months. He sees much work to be done.
But Bowling Green will play Missouri on Sept. 1 as scheduled, and the preparation for that game shifts gears this morning with the start of the first spring practice with the Falcons for Meyer, the former Notre Dame assistant who took over the program last December.
"My biggest concern about where we're at as a football team is that our work ethic is nowhere near what it needs to be," Meyer said. "I'm appreciative that we're not playing Missouri tomorrow, or in two weeks. We still have five months to develop that - and we're all on the same page."
Meyer spoke with a sense of urgency, despite the numerous flips of the calendar between now and the trip to Missouri to meet the Tigers and their new head coach, former Toledo boss Gary Pinkel.
"We have a ton of work to do. Hopefully, when we get together in August I'm going to say we're there, and you'll see it in my eyes that we are there. Because if we had to play tomorrow, we have no chance. No chance."
Meyer inherited a team that went 2-9 last season, and lost a number of games by fading in the second half. He sees physical strength, and a commitment to doing what it takes to be successful, as two of the major areas the Falcons need to address.
Meyer has upped the ante for being a part of the BG program, and indicates he will continue to elevate what he demands of the Falcons.
"Those kids actually think they're working hard, but they're doing the same things that every school in the country is doing," Meyer said.
"When we make it real hard on them, they think they're doing above and beyond what's needed, but they need to understand this is Division I, big-time college football. There's a certain standard that I'm familiar with, and I'm not changing. So they have to raise the level, and we have not achieved that."
Meyer said he started spring drills later than most schools because he felt the Falcons could use the extra time in the weight room. He said the strength program has been inadequate in the past and that a new strength and conditioning coach will be hired.
Scott Kellar, who held that post with the Falcons last season, left about a week ago to take a job at the University of Houston.
"If we don't make significant strides in the weight room, then we're not going to be competitive."
Meyer said the Falcons enter spring ball with a virtual clean slate - that seniority, letters and past playing time carry no guarantee of future opportunities.
"There's no depth chart set. When I took the job, I said it's the off-season program - that's how you're going to earn your spot on the depth chart."
Meyer had indicated soon after coming to Bowling Green that he expected there to be some nervous individuals and a few defections once he put his stamp on the program. That has occurred.
Fullback Eric Clark, a senior-to-be who played in 21 games over the last three seasons, Mike Knapp and Kyle Turano, who handled all of the place-kicking last season, have left the team, and Meyer would not be surprised if there are additional departures.
"I think that's how you build a program," he said. "Our goal is to make every time a player is around a coach, they say, `Is this really worth it?' Some guys decided it wasn't worth it. The guys who were fidgeting in their seats, they've made it through the first one, but the pads go on Wednesday, and we'll find out after that.
"We've been successful with the kids who have decided to stay with us."
Meyer said he expects a three-way battle at quarterback between junior Andy Sahm, sophomore Josh Harris and redshirt freshman David Azzi. He sees the offensive line as the area where the most work lies ahead, especially in terms of strength.
"In these 15 practices with the two new line coaches, it's going to be imperative to see some improvement. Are we Division I along the offensive line? No, we're not even close."
Despite the formidable task he sees ahead, Meyer said he is also anxious to get started with the pads and whistles and blocking sleds after spending the past few months dealing in mostly planning and strategy sessions. He is eager to see his team on the turf.
"This has been like looking at a Christmas present for four months, but you're not allowed to open it," Meyer said. "We're going to rip that thing open tomorrow. And tomorrow night when I get home, I'm either going to sit with my wife and have a glass of wine and say, `Honey, everything's going to be all right,' or say, `Oh Lord, that's not the present I wanted.'"
The Falcons conclude spring practice with the spring game at 1 p.m. on April 28.
Guidelines: Please keep your comments smart and civil. Don't attack other readers personally, and keep your language decent. Comments that violate these standards, or our privacy statement or visitor's agreement, are subject to being removed and commenters are subject to being banned. To post comments, you must be a registered user on toledoblade.com. To find out more, please visit the FAQ.