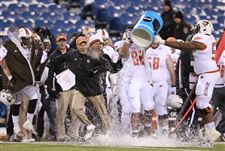 Bowling Green coach Dave Clawson gets a cold bath in celebration during the closing seconds of a victory over Buffalo at Ralph Wilson Stadium for the MAC East championship. The Falcons will play Northern Illinois on Friday for the confernce championship.
BUFFALO NEWS/HARRY SCULL, JR. Enlarge
ORCHARD PARK, N.Y. — Ralph Wilson Stadium became a "winter wonderland" for the Bowling Green State University football team Friday.
The Falcons came to the home of the NFL's Buffalo Bills, where snow covered more seats than did warm bodies on a frigid afternoon, and warmed the hearts of fans wearing orange and brown everywhere with a dominating second-half performance.
BG rolled to 338 yards of total offense and 21 points in the second half while limiting Buffalo to 144 yards, to claim a 24-7 victory — and set off a wild celebration.
BGSU NOTEBOOK: Joplin's big 2nd half lifts Falcons' passing game
That's because the win improved Bowling Green's record to 9-3 overall while clinching the Mid-American Conference's East Division title with a 7-1 mark.
"It has been a long road to get to this point," said senior defensive tackle Ted Ouellet, who had three tackles for loss and a pair of sacks. Last year we lost to Kent State, and we lost a shot at [the MAC championship]. This year we knew we needed to capitalize on it — and not be afraid to make plays."
Bowling Green will face West Division champ Northern Illinois in the MAC Championship Game at Detroit's Ford Field on Friday at 8 p.m.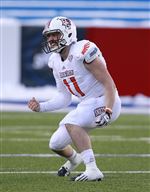 Bowling Green quarterback Matt Johnson celebrates a touchdown during the third quarter.
BUFFALO NEWS/HARRY SCULL, JR. Enlarge
Offensively the Falcons rebounded nicely after a shaky first half in which they gained 22 yards passing. BG's only first-half points came on a 40-yard field goal by Tyler Tate with 4:52 left in the first quarter.
"The key [to the second half] was we had to make some catches on balls deep down the field," BG coach Dave Clawson said. "This was a game where we had to make some plays on deep balls over the top, and we did that. If we don't make those plays, I think it's a different game."
On the Falcons' second possession of the second half Alex Bayer made a circus catch on a Matt Johnson throw to gain 48 yards down to UB's 21. Three plays later Johnson connected with Shaun Joplin on a 23-yard TD strike, with Joplin making a fine grab and tapping a toe in the end zone for the completion.
The BG defense forced a stop, but a Buffalo punt and a penalty backed the Falcons on their own 4. Johnson crossed up everyone — including his coaches — by keeping the ball and racing down the far sideline.
"Actually, it was a play called for Travis [Greene]," said Johnson, who threw for 230 yards and a TD while running for 72 more. "All game they were closing down, and the linebacker closed down enough that I was able to pull the ball, and Heath [Jackson] gave me a great block on the outside to spring me."
Johnson gained 56 on the play, and any momentum Buffalo had was stopped.
"I was surprised, because on that play call we generally don't read that," Clawson said. "It was a heads-up play by a really smart football player."
Eventually Greene, who ran for 129 yards on 30 carries, scored on a 14-yard run, and that put the onus on the Falcons defense. That was good for Bowling Green, since the D dominated through most of the game.
The only score Buffalo (8-4, 6-2) had came on a nine-play, 66-yard drive that Branden Oliver capped with a two-yard TD run midway through the second quarter.
The Bulls, who came into the game averaging more than 186 yards per contest, finished with 24 net yards thanks to five BG sacks and just 46 yards from Oliver.
"They whipped us up front," Buffalo coach Jeff Quinn said of the Falcons. "I said it when we went into this game last year, we needed to get better up front and we didn't do that."
Added Johnson: "To know that this was win-or-go-home and we were able to come out on top against a very good team, a very good defensive team, is a really good feeling."
Contact John Wagner at: jwagner@theblade.com, 419-724-6481 or on Twitter @jwagnerblade.
Guidelines: Please keep your comments smart and civil. Don't attack other readers personally, and keep your language decent. Comments that violate these standards, or our privacy statement or visitor's agreement, are subject to being removed and commenters are subject to being banned. To post comments, you must be a registered user on toledoblade.com. To find out more, please visit the FAQ.