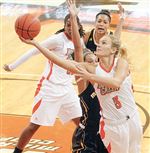 Bowling Green's Deborah Hoekstra takes the ball to the hoop past UW-Milwaukee's defense. She scored 19 points to surpass her previous career high of 18.
BLADE/AMY E. VOIGT Enlarge
BOWLING GREEN — When Deborah Hoekstra joined the Bowling Green State University women's basketball team two seasons ago, she was seen primarily as a 3-point shooter.
But the junior from East Lansing, Mich., has developed into a more diversified offensive threat. And her development was on display in the Falcons' 87-64 win over UW-Milwaukee at the Stroh Center on Sunday.
PHOTO GALLERY: BGSU women beat UW-Milwaukee
Hoekstra came off the bench and ignited the BG offense, scoring 11 points in the first half and finishing with a game-high 19 as the Falcons (8-1) shot almost 56 percent from the field.
"Now she's got a good, quick first step and developed a pull-up game as well," BG coach Jennifer Roos said of Hoekstra. "She's playing with a lot of confidence.
"Having her shoot at a high percentage the last three games has allowed us to jump out to early leads in the last three games."
Hoekstra was one of five Falcons to finish in double figures. Alexis Rogers posted a double-double with 16 points and 12 rebounds, while Jasmine Matthews scored 12, Erica Donovan 11, and Jill Stein 10.
Ashley Green finished with 15 points to lead the Panthers (2-6), while Macie Dorow scored 12 and Emily Decorah 11.
Hoekstra surpassed her previous career high of 18 points, which came in the Falcons' last game against Monmouth. The 5-10 guard has scored 48 points in BG's last three games after scoring 23 in the team's first six (a stretch that included her previous career best of 15 points against Niagara in the Falcons' home opener).
Hoekstra credited her teammates for her recent scoring outburst.
"We move the ball really well — everyone is such great passers," she said. "I've been fortunate to reap the benefits recently, but it could be anyone on the team.
"We always say, 'One more pass.' And the [recipient] could be anybody."
Hoekstra also gave credit to assistant coaches Jesse Fleming and Sahar Nusseibeh for her recent offensive roll.
"They have been working on my mental game," Hoekstra said. "I also credit my teammates, too: Whenever I start to hang my head, they tell me they have faith in me."
Hoekstra came into the game at the 13:49 mark and soon after Milwaukee scored to tie the game at 10. But Hoekstra made a free throw, then a 3-pointer to spark an 18-2 BG burst that essentially decided the contest.
"We did a really good job of pushing in transition," Hoekstra said of that run. "I think we play best when we play fast.
"Jillian [Halfhill] and Rachel [Konieczki] did a great job of finding people in transition, and everybody did a great job of running the floor."
Bowling Green led by as many as 20 points in the first half and took a 44-25 lead into halftime.
In the second half, Milwaukee came no closer than 16 points, and the Falcons led by as many as 27.
One reason the Panthers could not cut into BG's lead was the fine defensive effort by Miriam Justinger on Milwaukee's Angela Rodriguez, who did not score her first points until 43 seconds remained in the first half.
Rodriguez, who came into the contest averaging 20 points per game, finished with just seven on 3-for-15 shooting, including a 1-for-6 mark on 3's.
"I thought Miriam did a really good job of disrupting her," Roos said. "I told the team that [Rodriguez] was someone we needed to contain, because she can score 30 points.
"Miriam is a tenacious defender, and she is a smart defender. … Rodriguez did not get a lot of open looks."
NOTES: One of the Panthers' assistant coaches is Frank Goldsberry, the father of former BG standout Lindsey Goldsberry. … The Falcons were without freshmen Leah Bolton and Kennedy Kirkpatrick. Neither was in uniform, and Roos said both are day-to-day.
Contact John Wagner at: jwagner@theblade.com, 419-724-6481 or on Twitter @jwagnerblade.
Guidelines: Please keep your comments smart and civil. Don't attack other readers personally, and keep your language decent. Comments that violate these standards, or our privacy statement or visitor's agreement, are subject to being removed and commenters are subject to being banned. To post comments, you must be a registered user on toledoblade.com. To find out more, please visit the FAQ.