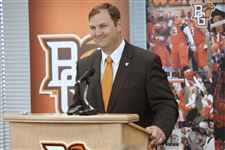 Chris Kingston.
THE BLADE/KATIE RAUSCH
Enlarge | Buy This Image
BOWLING GREEN — Even without a head coach, the Bowling Green State University football program remains an attractive option.
That remains true both for potential coaches and potential recruits, as Brock Hinkel proved this past weekend.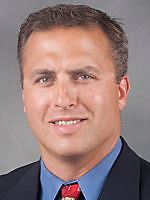 Adam Scheier.
Hinkel, a tight end at Iowa Western Community College, verbally committed to join the Falcons program after visiting the school this weekend. The 6-foot-5, 250-pound redshirt sophomore, a first-team all-league pick who caught nine passes for 155 yards and a touchdown for the Reivers this season, said he talked to BG coaches, including interim head coach Adam Scheier, and athletics director Chris Kingston before making his decision.
"The thing they told me is that BG football has not changed," Hinkel said. "The players have not changed. The school has not changed. … The only thing that has changed is the coaches."
Falcons head coach Dave Clawson accepted the same position at Wake Forest last week, and defensive coordinator Mike Elko and offensive coordinator Warren Ruggiero will join Clawson there after Bowling Green plays in the Little Caesars Pizza Bowl on Dec. 26.
Kingston did not return a text message seeking comment on the progress of the search to this point. When asked last week about the guidelines he would use to find Clawson's replacement, Kingston mentioned prior head coaching experience as a plus.
"When you are hiring somebody, specifically a head coach, the best predictor of future success is past success," he said. "What I look for is someone who is already doing what you want to do.
"I want a winner. I want someone who has proven themselves. I want someone who can interact with the university and the community, and has the emotional intelligence to reach these players to get the best potential that you can out of them."
Two candidates mentioned as potential replacements for Clawson meet that requirement — Towson University coach Rob Ambrose and Eastern Illinois coach Dino Babers, who met in the FCS playoffs last weekend. Ambrose has a five-year record of 31-28 at his alma mater, including a 28-8 record the last three seasons. The Tigers, who won the Colonial Athletic Association twice in the past three years, advanced to the FCS national semifinals with a 49-39 win.
Babers, who withdrew from the Eastern Michigan job hunt that was filled by former Drake coach Chris Creighton, is 19-7 with two Ohio Valley Conference titles in two seasons at Eastern Illinois.
Another potential candidate is Youngstown State head coach Eric Wolford, who in four seasons there has a 24-21 record. This past season the Penguins were 8-4 overall and tied for second in the Missouri Valley Football Conference with a 5-3 mark.
Kingston said previous head coaching experience isn't a must to become the Falcons next head coach.
"Is [being a head coach] the end all and be all? No, but it's a powerful characteristic if it's someone who is leading the organization the right way," Kingston said. "We're going to attract a lot of qualified individuals, and I'm excited about that."
Among the assistant coaches who have been mentioned for the BG job are Scheier, along with Florida defensive coordinator D.J. Durkin, a former Falcon player and assistant; Ed Warinner, Ohio State's offensive coordinator; and Arkansas defensive coordinator Chris Ash, who also has served as defensive coordinator at Wisconsin.
Warinner also has been mentioned as a possible candidate to replace Rich Ellerson at Army after the latter was dismissed by the academy Sunday.
Contact John Wagner at: jwagner@theblade.com, 419-724-6481 or on Twitter @jwagnerblade.
Guidelines: Please keep your comments smart and civil. Don't attack other readers personally, and keep your language decent. Comments that violate these standards, or our privacy statement or visitor's agreement, are subject to being removed and commenters are subject to being banned. To post comments, you must be a registered user on toledoblade.com. To find out more, please visit the FAQ.