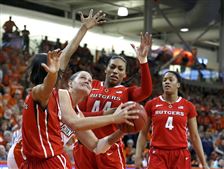 BGSU's Jill Stein looks for a shot between Rutgers' Tyler Scaife, left, and Betnijah Laney during their WNIT game on Monday night.
THE BLADE/LORI KING
Enlarge | Buy This Image
BOWLING GREEN — There were no tears shed after one of the best seasons in Bowling Green State University women's basketball history ended Monday.
The Falcons suffered a 55-50 loss to Rutgers in the fourth round of the Women's National Invitation Tournament. And with a Stroh Center crowd of 2,649 loudly cheering, the second-winningest team in school history smiled and waved goodbye.
"We're not in tears," BG coach Jennifer Roos said. "We have a lot of mad kids, because we had our chances to win. And that's a bitter pill to swallow."
PHOTO GALLERY: WNIT: Rutgers defeats BGSU
Bowling Green led for the entire first half, then saw a 15-0 Rutgers run drop it into a hole, and the Falcons couldn't escape. And although BG managed to cut its deficit to one possession in the final six minutes, the Falcons could not avoid a disappointing finish to a magical season.
The Falcons collected 30 wins, the second-highest total in Mid-American Conference history, and reveled in the chance to play games against nationally recognized schools such as Michigan and Rutgers on their home floor.
"We were really disappointed about not getting to the NCAA [tournament], because that was a lot of people's dream," senior Alexis Rogers said. "But how many people can say they won 30 games? And playing these big-named schools has been fun.
"Who expects a mid-major like us to compete with teams with big names like these? And they were traveling to us."
Rogers and fellow seniors Jillian Halfhill and Jill Stein finished with a flourish, combining for 31 points and 20 rebounds. Rogers had 16 points and eight rebounds, while Halfhill scored 10 and Stein contributed five points and a game-high 10 rebounds.
Erica Donovan also finished in double figures with 12 points.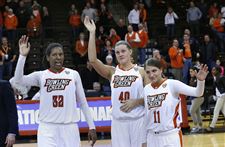 BGSU seniors, from left, Alexis Rogers, Jill Stein, and Jillian Halfhill wave good-bye to fans after their loss to Rutgers in the WNIT on Monday. The Falcons won 30 games this season, the second-highest total in Mid-American Conference history.
THE BLADE/LORI KING
Enlarge | Buy This Image
Kahleah Copper scored 14 to lead Rutgers (26-9), while Tyler Scaife and Briyona Canty had 13 and 11, respectively.
Bowling Green led the entire first half, building a six-point advantage in the opening four minutes and leading by as many as eight before taking a 25-21 halftime lead.
But first-half keys for the Falcons — good shooting and forcing Rutgers to miss shots — disappeared in the second half.
Offensively the Falcons made just 2 of 13 shots to begin the second half (15.4 percent) after shooting 40.9 percent in the first.
"They kind of iced our screens so we couldn't use our screens," Rogers said. "The ball-handlers were going into a lot of traffic, and with the type of offense we run, that really made it complicated."
Meanwhile Rutgers connected on 9 of 13 shots (69.2 percent) to start the second half after making just 32.3 percent in the first.
"We were playing back-line defense, and we wanted them to take outside shots," Roos said. "They have the ability to drive, create off the bounce and get to the hoop. … And they just made shots."
As a result, a 29-25 BG lead with 17 minutes, 20 seconds to play was spun completely around by 15 unanswered points from the Scarlet Knights, who led 40-29 with 12:38 left.
"The momentum swung their way because they were making shots," Roos said. "When you make a shot, you're going to play a little better defense; when you miss a shot, at the other end you're reliving that shot in your head."
The Falcons bounced back, whittling their deficit down to three points. When Halfhill banked in a one-handed 3-pointer at the end of the shot clock to make it 45-42 with 5:52 left, there was bedlam in the Stroh Center.
"How on earth does that even go in? She didn't even shoot it with two hands," Rogers said. "She slung it up there, and it went off the backboard and went in."
But the Scarlet Knights responded with a basket from Syessense Davis, then a steal that led to a layup by Copper to make it 49-42.
Twice more the Falcons again cut the deficit to three, the last time coming with 16 seconds left. But a potential fairy-tale finish went up in smoke when Donovan missed a 3-pointer, and Rutgers' Scaife made a pair of free throws to close out the win.
"I had a different script written for the ending for those three seniors," Roos said. "I think they had a different script as well."
When asked if that would bring her to tears, she said, "No. Not going to happen."
Finally, Roos did think of two things that might cause her to weep.
"That's probably what brings me closest to tears: We didn't get the 'W' for those fans who came," said Roos, who said she couldn't yell out play calls because the fans were so loud and instead resorted to using a dry-erase board. "Our fans were absolutely fantastic. …
"And these seniors really left their mark [on this program]. That's why I held them back on the court at the end of the game, so they could get their applause. They deserved it. I'm really looking forward to our post-season banquet. You'll probably see some tears then."
Contact John Wagner at: jwagner@theblade.com, 419-724-6481 or on Twitter @jwagnerblade.
Guidelines: Please keep your comments smart and civil. Don't attack other readers personally, and keep your language decent. Comments that violate these standards, or our privacy statement or visitor's agreement, are subject to being removed and commenters are subject to being banned. To post comments, you must be a registered user on toledoblade.com. To find out more, please visit the FAQ.