Former BGSU soccer player Casagrande heads home for World Cup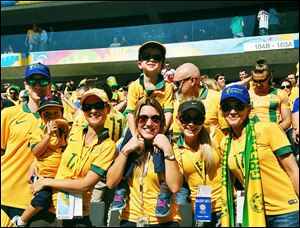 Ivi Casagrande, center, bonded with many families of the Australian men's soccer team, including Matt McKay's family.
Enlarge
When Brazil was named as the host country for soccer's 2014 World Cup, millions in that nation celebrated.
One Brazilian who was living in Bowling Green at the time was worried.
"I was happy at first," said former Bowling Green State University soccer player Ivi Casagrande. "But then when I thought about how much work our country needed to do and how much money we needed to spend [to get ready for it], I felt a mix of feelings.
"We have problems with corruption in our government system, and there are areas that aren't good like our education system."
That did not stop Casagrande from becoming involved in this summer's World Cup, though. That experience has turned into a once-in-a-lifetime event for Casagrande, who came to the United States from her hometown of Belo Horizonte, Brazil, in 2010 and spent four seasons on the Falcons' women's team. She prepared for her involvement in the World Cup by volunteering when Brazil hosted the Confederation Cup last year.
"I was selected to work outside the stadium on game day to help people find their seats," Casagrande said. "But then I was changed to work with FIFA's director of marketing, helping her with translation and helping her distribute tickets to guests of FIFA.
"I was lucky enough to get tickets for games. I would work during the day, then get tickets and watch the games at night."
There were a number of protests during the Confederation Cup, with many of the protests focused on the spending for the event as well as corruption surrounding the events.
So Casagrande was prepared for the worst when she returned to her home country in May.
"There wasn't a lot of celebrating in the days leading up the World Cup," she said. "But when the World Cup started, it was completely different.
"There were no protests, no problems at all. The stadiums are awesome — it is amazing and crazy how it changed."
During the group stage of the tournament, Casagrande worked with the families of the Australian national team. She traveled to Vitoria, Brazil, on June 9 and met with the families as they arrived. She helped the families set up activities, including paddleboarding in the Atlantic Ocean, visiting a national park, and touring the city.
"We would start at 6 a.m. every morning and go nonstop until 10 p.m. every night," Casagrande said. "We had 90 people, and we tried to help with everything they needed."
She also helped the families travel to the games of the Socceroos, the nickname for Australia's national team. She quickly bonded with the parents of Australian star Tim Cahill by helping them get to the stadium for games.
"They were really nice people," Casagrande said. "The buses would park three or four kilometers (1½-2½ miles) away from the stadium, and it was too far for them to walk. So we would have a car that took them closer to the stadium, and I would help them get to their seats."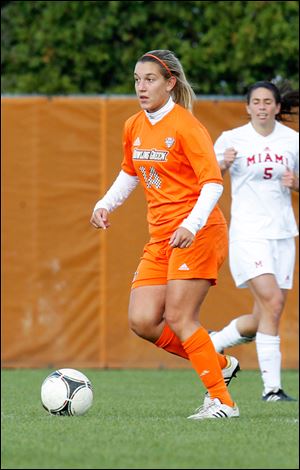 Ivi Casagrande of Belo Horizonte, Brazil, was a defender for the Bowling Green women's soccer team. She started 17 of her 49 matches and was academic All-Mid-American Conference honorable mention.
BGSU
Enlarge
Casagrande quickly became a fan of the Australian team.
"When I was at their games, I would wear an Australian jersey — and I started getting more excited for the Australian games than the Brazilian games," she said. "When you are with the families, you see how emotional they are watching their kids play. When the national anthem starts, they would start crying. I felt I became part of the family. I got chills every time the Australian anthem played."
The Socceroos lost their first match in Group B to Chile, then took a second-half lead before suffering a 3-2 loss to Netherlands, the eventual group champion.
"There was still hope against the Netherlands," Casagrande said. "They were tied in the second half, and there was hope, but when they lost it was frustrating."
The Socceroos finished last in the group following a loss to defending champion Spain in their final match, but the team was not expected to advance beyond the group stage. Casagrande said that did not diminish the excitement the Australian families felt while in Brazil.
"All of the families had flights out [of Brazil] the day after their final group stage game. If they would have won, they would have all had to change their tickets," she said. "They realized the journey would be over after that third game, so they all just enjoyed the trip and everything that was going on."
After her duties with the Australian team ended, Casagrande returned home and enjoyed the excitement the event has generated.
"We see tourists from all over," she said. "I was lucky to get a ticket for the Brazil game against Chile.
"Before the World Cup, there was no problem getting tickets. But once it started and the games were so exciting, everyone wanted tickets, so people are selling $100 tickets for $1,000 or more."
Casagrande, a defender for the Falcons for four seasons, graduated in May with a pre-med degree. She will return to the United States on July 20 and begin a two-year internship in California before entering med school in 2016.
Casagrande won't soon forget this summer's adventure.
"Working behind the scenes and being a part of it was exciting," she said. "I'm proud of the way my country has united and has such pride in this event was exciting.
"As a country we have learned how to separate the national team and the World Cup from the government, and I'm relieved at how my country embraced the World Cup. To see the World Cup become the best event it could be has made this the most amazing experience of my life."
Contact John Wagner at: jwagner@theblade.com, 419-724-6481 or on Twitter @jwagnerblade.