MOBILE MEALS' 30th annual Wine Gala celebrated the organization's 50th year of service. The event, held at Parkway Place in Maumee, raised around $85,000 and a lot of fun.
Touched played tunes as guests tasted wines and nibbled hors d'oeuvres donated by several local eateries. A sparkling sculpture by Ice Creations anchored the scene. A gourmet dinner with wines followed.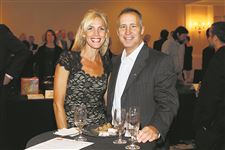 Neva Kyser, left, and Matt Reece attended the Mobile Meals 30th annual Wine Gala Saturday, at Parkway Place in Maumee. The organization is also celebrating its 50th year.
The Blade/Katie Rausch
Enlarge | Buy This Image
Emcee Mark Elliott greeted everyone. Board president John Graham, there with his wife Julie, thanked the 200-some supporters, sponsors, and wine and silent auction donors and shoppers.
Honorary chairmen were Mike and Sondra Gibbons of Mainstreet Ventures.
Models paraded about in coats from Roth Furs and Leathers. Owner Phil Roth donated a silver fox coat and gave 20 percent of gala-mentioned sales to the cause.
The new Rubber Ducky Pull was popular. Attendees pulled one of 48 golden ducks to win bottles of wine valued from $15 to $150. Auctioneer Rick Kigar enticed folks to bid high. The featured wine lot donated by Dr. David and Jan Merrell was won by Malcolm and Peggy Richards.
Among the guests were Greg and Rebecca Shope, Amanda Geletka, Stephen and Jennifer Greer, Kelly Kessler, Rob and Dana Loeb, Shelley Benore, Mike and Sharon Sordyl, Julie McKinnon, Sam and Maggie Thurber, Doug Hartnett, and Dan Kory and Elaine Canning.
THE 26TH annual Wine Affair to benefit the Kidney Foundation of Northwest Ohio raised about $75,000. More than 300 supporters sampled 100 different types of wines, nibbled appetizers, dined, and shopped the auctions.
The event, held at Parkway Place in Maumee, was also a Las Vegas-style event with gaming.
Honorary chairman Dr. Herbert Stockard thanked everyone for their support. Seen were Dr. Obi Ekwenna, University of Toledo Medical Center kidney transplant surgeon, and board members Matt Darah and Dr. David Da Rocha Afodu.
A CELEBRATION of Wine and Food presented by the Toledo Animal Shelter Auxiliary was at Manhattan's Pub 'N Cheer. Four wines were tasted along with plenty of yummy hors d'oeuvres and dessert.
President Nancy Ligibel greeted everyone. About $6,000 was raised for the Toledo Animal Shelter, according to event chairman Kate Kelley.
Among the 74 attendees were Don Leary, Peg Werner, Jon Donofrio, Betty McKinney, Grace Christopher, Pam and Mike Koontz, Carol Arnold, Pam Roberts and Tom Creque, Carol Buchanan, and Jackie Rousseau-Werner.
THE 8TH annual Corks for a Cause, an evening of wine tasting, pink cocktails, and heavy grazing, raised about $35,000 for Lambie's Legacy for the Margaret Lamb Guyton Stout Fund for genetic testing, health awareness, cancer research, and patient support via breast cancer charities.
The first seven years raised more than $180,000 for the community. New to the list of benefiting charities is Good Grief for children and their grieving families.
The event at Carranor Hunt and Polo Club included a raffle for a trip to California wine country. The Audiophiles played tunes as guests supped and tasted wines, a Napa Cosmo and the signature Pink Lamb cocktail.
Event chairman Meigen McIntyre was assisted by Beth Westmeyer, Brandy Alexander-Wimberly, Cindi White, Emily Alcroft, Heather Westmeyer, Jane DiSalle, Kathie Souder, Kristi Young, Margot Estes, Maribeth Phibbs, Molly Thompson, and Nicole LeBoutillier, president.
All smiles over the success were the late Lambie Guyton Stout's mom, Priscilla Schwier, father Fred Schwier, and sister Lissa Guyton. Mrs. Schwier made Comfort Crunch when her daughter was in need of nutrition when going through treatments. The healthy snack is still made today. Call 419-704-2112.
THE 11TH annual Uncork a Cure presented by Sal's Pals at Industrial Power Systems in Rossford raised $25,000 for the Cystic Fibrosis Foundation.
Jeff Stewart provided music as guests nibbled savory cuisine and sampled wines provided by several local wine vendors including Vintage Wines, who has been with the event since the first tasting.
Sponsors included Reactive Resin Products, All State, Sofo Foods, JAWS, and others.
Event chairman Nikki Bazzoli, Sal's aunt, was assisted by a host of volunteers.
Special guests were Sal and his parents, Jenny and Rick Pinardo.
TOLEDO Northwestern Ohio Food Bank's Harvest Marker dinner dance and auction at the Premier Banquet complex raised more than $25,000. The 200-some attendees were greeted with champagne, then they dined on a delectable dinner.
Award recipients included Citizens Bank, Cumulus Media, Kathy Bohn, donor of the year Woodforest National Bank, and volunteers of the year Hal Munger and Norman Bell, Sr.
Then everyone kicked up their heels with the Detroit in Motion band. Catching the moments was the photo booth by Kurt Nielsen Photography.
Bravo to event chairman Debbie Deiger, assisted by co-chairman Elaine Lewandowski!
THE 9th annual Heartwarming Party presented by Ronald McDonald House Charities of Northwest Ohio at the Premier Banquet complex raised about $100,000. The 375 attendees dined and shopped the auctions as Ronald McDonald posed for photos. Special longtime supporter the late Don Michel was recognized.
Joel and Wende Mersereau of Norwalk spoke about their son Jonah's heart condition that he was born with 17 years ago. They stayed at the house for more than a week. Recently, Jonah needed treatment at ProMedica Toledo Hospital, and once again they stayed at the Ronald McDonald House while Jonah was in the hospital.
Separate from the Heartwarming event, $2,325 was raised from the pre-opening dinners at the new Mancy's Ideal on Monroe Street. The place was packed with folks enjoying the cozy atmosphere and tasty foods.
Barbara Hendel is The Blade's Society Editor. Contact her at bhendel@theblade.com or call 419-724-6124.
Guidelines: Please keep your comments smart and civil. Don't attack other readers personally, and keep your language decent. Comments that violate these standards, or our privacy statement or visitor's agreement, are subject to being removed and commenters are subject to being banned. To post comments, you must be a registered user on toledoblade.com. To find out more, please visit the FAQ.