'TIS the season to shop, shop, shop. There are many opportunities to shop at local places, including the Toledo Museum of Art, the Toledo Zoo, Toledo Botanical Garden, any one of the local art galleries, gift shops, dress shops, and more.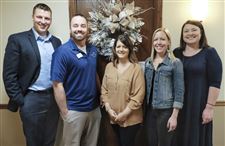 Matt Karaffa, of Bowling Green, left, Jeff Miller, of Pemberville, Amanda McDowell, of Haskins, and Alisha Nenadovich, of Bowling Green at the Holiday Wreath Auction at Brookdale of Bowling Green.
The Blade/Jetta Fraser
Enlarge | Buy This Image
THE Bowling Green Chamber of Commerce ACT*BG project team (Active, Community, Teamwork) hosted its annual Holiday Wreath Auction at Brookdale of Bowling Green. Guests sipped and nibbled as they shopped the silent auction of holiday wreaths decorated and designed by local businesses. The $2,500 raised benefited the ACT Bowling Green Christmas Elves program.
PAULA Brown Shop and pub and Sophia Lustig Shop hosted the annual Shop the Block Holiday Stroll. The stores, all decorated for the holidays, set a relaxing shopping scene with complimentary beverages and savory snippets as tunes filled the air.
THE Peggy Grant Collection exhibition at 20 North Gallery drew artists and art aficionados, many of whom purchased treasures for their keeping. The grand dame, who is an artist herself, stopped by for a brief visit during the pre-opening reception. The show included works by local artists, international museum collection artists, paint-by-number paintings, and paintings by her late husband, Adam Grant, whose life was spared when he, as a child, was sent to Auschwitz concentration camp with his family.
Years later, the Grants met when they were both artists at Craft Master, where Mr. Grant was the first designer for the paint-by-number brand. I'm proud to say Mrs. Grant was my mentor when I became a docent 25 years ago at the Toledo Museum of Art. It was a perfect fit since I graduated from Ringling College of Art + Design. The school was founded by the owners of the Ringling Barnum & Bailey Circus..
Although the exhibit is over, selections are still available and on display at 20 North Gallery.
THE TOLEDO Bar Association Auxiliary's 11th annual Holiday Trunk Show at Inverness Club this year was a fun social gathering. The event, for 75 or so members and invited guests, included lunch and vendor shopping of unique gifts. Marie Vogt , founder of the Toledo Ballet, is also an artist. Her photograph sat on a vendor table where her nieces sold her cards of her paintings. Artist Carol Connolly Pletz's cards of local scenes from her paintings made nice hostess gifts. Carole Nooney was there with her daughter, Betsy Nooney, of Chicago, who was selling her long-lasting lipstick, LipSense.
Seen were Marcia Heuerman, Pam Herschel, Mary Helen Williams, Kathy Holmes, and auxiliary President Patty Degnan.
The raffle raised $935 for the auxiliary projects including court tours, pro bono, and Toledo Legal Aid, according to event chairmen Patty Cabanski and Cathy Nelson.
THE Country Garden Club's Holiday Trunk Show held at Carranor Hunt and Polo Club in Perrysburg each year raised $32,000. The proceeds from the three-day public event supports the club's projects, such as the downtown Perrysburg holiday decorations and summer hanging baskets, as well as the curbside appeal project at the Spafford House Museum, said club President Clare Gorski .
TODAY is the final day of the Athena Art Society Juried Art Exhibition in the University of Toledo's Center for Visual Arts located on the Toledo Museum of Art Campus. Athena Art Society, more than 100 years old, is one of the oldest women's art organizations in the country.
Barbara Hendel is The Blade's society editor. Contact her at: bhendel@theblade.com or call 419-724-6124.
Guidelines: Please keep your comments smart and civil. Don't attack other readers personally, and keep your language decent. Comments that violate these standards, or our privacy statement or visitor's agreement, are subject to being removed and commenters are subject to being banned. To post comments, you must be a registered user on toledoblade.com. To find out more, please visit the FAQ.