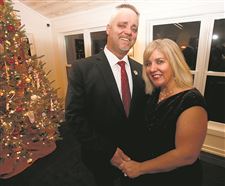 Axel and Wendy Mueller during a HOOVES fundraiser at the home of Allan and Susan Block in Toledo.
The Blade/Kurt Steiss
Enlarge | Buy This Image
A COCKTAIL fund-raiser in the Tantara home of Susan and Allan Block, chairman of Block Communications Inc., parent compnay of The Blade, was for H.O.O.V.E.S. — Healing Of Our Veterans Equine Services. The program uses horses to help veterans heal, regain control, and return to the life they fought to protect.
Amanda Held, founder, said there is no horseback riding. The free program for veterans with post traumatic stress disorder uses non-verbal communication with horses to help veterans better cope and adapt to the world around them and once again find peace and joy in their lives. Her favorite quote is, "Your horse is a mirror to your soul" by Ray Hunt.
"Lives are changed forever," Mrs. Block said. It costs $600 per veteran but is worth far more when it helps those who have fought for our freedoms return to a healthy life. With tears in her eyes, she said to veterans, "Thank you for the sacrifices you've made!" $7,000 was raised during the two-hour soiree.
Mrs. Held, an Air National Guardsman with the 122nd Fighter Wing in Fort Wayne, Ind., talked about the bracelet with a bullet that a veteran gave to her on his one-year anniversary from the program that saved his life. He didn't need the bullet anymore.
Mr. Block, thanking everyone, said several Block Communications employees went to war and came back struggling, and a few ended their lives: "No veteran should end up like that — ever!"
Supporters mingled as they sipped from a top shelf bar and nibbled on gourmet canapes. State Sen. Frank LaRose, a ten-year Army Green Beret veteran, was in Iraq and lost friends. He repeated a Ronald Regan quote: "I've often said there's nothing better for the inside of a man than the outside of a horse."
Axel Mueller, a retired U.S. Navy veteran who was there with his wife Wendy, gave an original USS Gallery command coin to Mrs. Block. They are carried, collected, and traded by most military members and also given to special people for their selfless work for veterans.
Also among the 80 guests were Diana Block, Jeff Abbas and wife Rhona Alter, Rick and Mary Anderson, Bill and Liza Anderson, Peter and Colleen Demczuk, Keith Burwell, Susan Conda and her mom Judith Conda, Linda Onisko, Duane and Nancy Ankney, Jack Niggemyer, Magistrate Nancy Miller and husband Mike Mikkonen, Dr. Tom and Traci Schwann, Baker O'Brien, Dr. Dan Dressner and Dr. Jonna McRury, Gaye Martin and Megan and Andrew Hornsby.
For information or to donate, contact info@hooves.us,visit www.hooves.us, or call 419-930-7936.
■
A NIGHT on the Polar Express sponsored by Frisch's Big Boy and Ralphie's was in the grand lobby of the Downtown Toledo Train Station, known as the Martin Luther King, Jr., Plaza. On track for education, the event raised $70,000 to be divided equally between the Northwest Ohio Scholarship Fund and Hope Learning Academy Foundation.
Guests arrived at their destination as Toledo Opera carolers sang. Richard LaValley, Jr., board chairman of NOSF, and Dan LaValley, superintendent of HOPE, thanked everyone for their support.
Fabulous foods were provided by 7 Little Cupcakes, Bar 145, The Beirut, Element 112, Frisch's Big Boy, Nancy's, Ralphie's, Rosie's Italian Grille, Sundown Cantina, and Tree City Catering.
North Pole animals were provided by the Toledo Zoo. A fire and ice show with methane bubbles and nitro pops was by Imagination Station.
Raffle prizes included two baskets of wines and a ladies diamond pendant won by Maureen Kenney.
Richard Leonard auctioned off a night at the Toledo Zoo and Aquarium with Hope students and a night at Imagination Station with NOSF students, which were generously purchased by Ken and Deborah Knight.
Dancing to the tunes of Skoobie Snaks ended the evening. Among the 50-some sponsors and donors for the first-time event were Scott and Lisa Brown; International Tableware Inc.; Key Bank; Knight Insurance; LaValley, LaValley, Todak and Shaefer; SJS Investment Services; Buckeye Broadband; The Blade; Telesystem; Checker Distributors, and Alan and Karen Fadel.
Bravo to the LaValley family and friends who engineered the event, including Jessica LaValley, who found my lost notebook!
Among the more than 350 supporters were Gary and Dori Marck, Debbie and Rick Yarder, Paul and Lynn Minor, Lee and Diane Huss, John and Jeanie Hayward, Deb Deiger, Bob and Sue Savage, John and Yolanda Szuch, Mary and Dr. Art Mancini, Tom and Nancy Kabat, and John and Linda Graham.
■
THE St. Francis de Sales School annual Presidential Gala presented by the board of trustees and foundation at the Premier raised about $200,000 for tuition assistance. Setting the holiday scene with Christmas carols was the Singing Blue men's choir, directed by Michael Kastner. A silent auction provided chopping opportunities followed by a delectable surf and turf dinner.
Emcee Jim Heller, the voice of the Lady Rockets, welcomed everyone, and severa St. Francis students thanked the supporters.
Shopping continued with a live auction led by Jerry Anderson of WTOL-TV, Channel 11. Dancing to the sounds of the Bridges with alumni Jim Filipiak ended the elegant evening.
All smiles were Father Geoff Rose, school president, Father Ron Olszewski, foundation president, and Don Carroll, school board chairman.
Among the guests were Patrick and Angele McGrady, Jim and Nancy Bingle, Letitia Marth and Dave Snell, Keith and Katy Walker, Jeff and Heidi Ansted, Kim and Tim Eltschlager, Tom and Jennifer Antonini, Matt and Selena Bublick, Ron and Sondra Sheahan, Julie and Michael Zysik, Mark and Shelli Jacobs, Dave and Nona Snell, and Paul and Sue Spinazze.
Kudos to event chairmen Carol DuPuis and Colleen Williams and assistant chairman Sue Sweeney.
■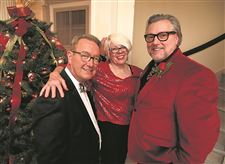 From left: Wayne North, Sue Carter and Joe Howe during the 40th annual Holiday with a Heart Gayla.
The Blade/Kurt Steiss
Enlarge | Buy This Image
THE 40th annual Holiday with a Heart Charity Gayla, the premier social event for the LGBT (lesbian, gay, bisexual, transgender) community and friends, raised about $35,000 for the University of Toledo Multicultural Success Program; Young, Gay, and Empowered of the Ryan White Program, and the Holiday with a Heart Fund at the Toledo Community Foundation.
The event, held at the Toledo Club, was a night of fun with vocalist Matt Richardson, a photo booth, an elegant dinner, and dancing with DJ Jason. Raffle prizes included a wagon of booze, a wheelbarrow of beer, and an unset ruby donated by Broer-Freeman Jewelers, which was won by Lee Hatchings and Hector Loera of Hatchings Insurance.
There in support were many community movers and shakers. Dr. Joan Duggan was honored with the Founders Award for extraordinary community service.
Event hosts were Dave Bingham, Sue Carter, Rick Cornett, MiChelle Fortress, Ed Hoffman, Jack Howard, Joe Howe, Jo Jakeway, Steve Maenle, Billy Mann, Nick Nevins, and Dr. Wayne North.
Barbara Hendel is The Blade's Society Editor. Contact her at bhendel@theblade.com or call 419-724-6124.
Guidelines: Please keep your comments smart and civil. Don't attack other readers personally, and keep your language decent. Comments that violate these standards, or our privacy statement or visitor's agreement, are subject to being removed and commenters are subject to being banned. To post comments, you must be a registered user on toledoblade.com. To find out more, please visit the FAQ.