A FIRST peek of vehicles at the annual Toledo Auto Dealers Association Greater Toledo Auto Show was at the Cars Are the Stars Preview Gala presented Wednesday by Auto Dealers United for Kids and The Blade at SeaGate Convention Centre.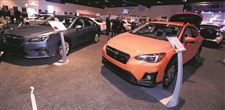 Cars Are The Stars Gala and Preview Party at the SeaGate Convention Centre in Toledo, in advance of the Greater Toledo Auto Show.
THE BLADE/LORI KING
Enlarge | Buy This Image
The annual fund-raiser has raised more than $1.8 million for 52 children's charities since its inception. More than $140,000 is expected to be raised this year for Heartbeat of Toledo, Mobile Meals of Toledo's Weekender Program, BeInstrumental, Cherry Street Mission Ministries, Boys and Girls Club of Toledo, and Make-A-Wish Foundation, said Pat Stark, AUDK executive director. ADUK-TADA also had endowed scholarships at the University of Toledo and Owens Community College.
Guests cruised into the hall of shiny cars of all colors, makes, and models, checking out their favorite vehicles as they drank and dined. Emcees Diane Larson and Lee Conklin of WTVG-TV, Channel 13, kept the evening in high gear. In addition to supporting local charities, "The auto industry provides thousands of jobs in Northwest Ohio through suppliers, vendors, and dealerships," said event chairman Robb Brown, president of Brown Automotive and Truck Group.
Event co-chairmen were Marianne Ballas (Ballas Buick-GMC), Mike Barchick (Charlie's Dodge), Richard Cronin (Perrysburg Auto Mall), Paul Devers (Vin Devers Autohaus), Bobby Jorgensen (Kistler Ford Consumer Experience Center), Tim Mathews (Mathews Ford), Andrea Musselman (Dunn Chevrolet Buick), Mike Rouen (Rouen Chrysler-Dodge Jeep-Ram), and Dave White, Jr. (Dave White Chevy-Acura).
"The cars are the stars, but the stars are the people in this room who want to help children. ... Helping people is what it is all about. The Blade and BCI will continue to sponsor this outstanding event," said Allan Block, chairman of Block Communications Inc., parent company of The Blade.
A video highlighted the charities after Kurt Franck, president, general manager, and executive editor of The Blade, thanked everyone.
Later, many danced to the tunes of Your Generation in Concert, which played pop, rock, dance, and R&B hits.
Seen were Sharon Speyer and Dean Monske, Cindy and Dock Treece, Bob LaClair, Christi and Todd Ansberg, Dee and Dr. Lance Talmage, Craig and Michelle Joseph, R. L. and Karen Berry, Dirk and Julie Van Heyst, Steve Serchuk, Brian Darah, Aaron Bieszczad, and Suzanne and J.B. Rorick.
Sponsors included The Blade, Hungtingon Bank, PNC, Ally, Fifth Third Bank, Hylant, UAW, GM, WTOL-TV, Channel 11, WTVG-TV, Channel 13, WNWO-TV, Channel 24, and Buckeye Broadband.
Thanks go to University of Toledo College of Medicine, the former Medical College of Ohio, students who ran the coat check and accepted tips for the UT CommunityCare Clinic for the uninsured.
ROTARY Rocks: Our City, Our Region, Our World was the theme of the Rotary Club of Perrysburg's 34th annual Charity Auction at the Hilton Garden Inn in Perrysburg. Emcee Jeff Smith of WTVG-TV, Channel 13, kept the evening moving.
Club President Chet Welch welcomed everyone, followed by a prayer.
The 240 attendees sipped spirits and shopped the silent auction via mobile bidding. Patrick the Magician entertained with a few tricks up his sleeves.
Games were played for prizes including a bottle of wine, a pink tourmaline, a diamond and gold necklace raffled by McGivern Jewelers, and an Apple watch from Bruce and Holly Samuelson. The grand prize raffle was for a trip to Las Vegas or Jamaica or $2,500 cash.
A live auction with Jack Amlin of Amlin Auctions offered everything from travel, restaurant, golf, flying, yachting, and fishing packages to fashion consultations.
Tugging at hearts was Rotarian Max Lambdin of Cherry Street Mission Ministries, the evening's main charity recipient. The estimated $80,000 raised benefits Cherry Street and the Perrysburg Rotary Service Foundation, said foundation chairman Jack Sculfort.
Twine.it photo booth captured fun moments, and guests were invited to share their photos on social media.
Entertaining was the Plead the Fifth band, which included Judge Molly Mack, Bob Venzel, Mike Mori, Joe Hamilton, Kenny Welker, and Wayne Koskinen.
Present were Sen. Randy Gardner, Rep. Theresa Gavarone, Perrysburg Mayor Tom Mackin, township Trustees Bob Mack and Joe Schaller, Councilmen Jonathan Smith and Barry VanHoozen, Wood County Commissioner Doris Herringshaw, and Rotary District Gov. Deb Cheney of Waterville Rotary, host of the district 66th conference at the Renaissance Toledo Downtown Hotel in May.
Spotted were Bill and Pam Davis, Les and Deb Buker, Jay and Rachael Davis, Dick and Annette Sipp, Dave and Cary Wise, Phil Roth, Judge Dwight Osterud, Jeri Wendt and Jerry O'Kenka, Peter Allesee, Kevin and Melanie Rantanen, and Matt and Lea Skotynsky.
Event chairmen Joanie Asendorf, Mr. Koskinen, and president-elect Alison Frye were assisted by Mr. Venzel, Cindy Russeau, Janel Haas, Jessica Hover, Richard Chamberlain, Susan Nelson, Tami Wise, Phil Bollin, Dr. Les Domini, Katie Perkins, Ken Robinson, and Sarah Bucher.
Barbara Hendel is The Blade's Society Editor. Contact her at bhendel@theblade.com or call 419-724-6124.
Guidelines: Please keep your comments smart and civil. Don't attack other readers personally, and keep your language decent. Comments that violate these standards, or our privacy statement or visitor's agreement, are subject to being removed and commenters are subject to being banned. To post comments, you must be a registered user on toledoblade.com. To find out more, please visit the FAQ.