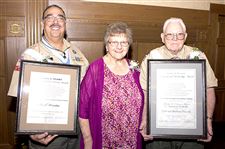 Lifetime Award recipients at the annual Scouter Recognition Dinner. From left: Mark Urrutia, Barbara Pocock & Carl Pocock.
THE 92nd annual Scouter Recognition Dinner presented by the Boys Scouts of America Erie Shores Council to honor all council volunteer leaders was at the Toledo Club, where no outdoor elements could interfere with the event. Erie Shores Camp Miakonda in Sylvania and the Richard P. Anderson Pioneer Scout Reservation in Pioneer, Ohio, are great places, but these dedicated leaders deserved a dinner sans bugs.
Eagle Scout Dan Anderson, wearing his scout uniform, was among the guests.
The Torch of Gold Award went to Robert Quick (Perrysburg); the Glenda M. Bowman Lifetime Inspirational Leadership Award went to Barbara Pocock and Carl Pocock (Clyde, Ohio), and the Gregory A. Hendel Lifetime Service Award went to Mark Urrutia (Sylvania). Yup, that is my late brother who was a lifetime scout, an Eagle Scout and a Silver Beaver honoree.
The Silver Beaver Award, the council-level award for scouting and years of community service through self-sacrifice and dedication, went to James "Jim" Layman and Susan White (Sylvania), William "Pete" Grundy (Lambertville, Mich.), Craig Keirstead (Grand Rapids, Ohio), and Jeffrey "Jeff" Smarkel (Williston, Ohio).
Venturing Leadership Awards were presented to youths Dana Kleman (Bowling Green) and John Roscoe (Temperance), and adults Bert Latuch and Sonya Whitehead (Maumee).
Mark Brown (Fremont), Edwin Frey (Toledo), Charles Horne (Green Springs, Ohio), and Timothy Myers (Bowling Green) received Distinguished Commissioner Service Awards.
MAUMEE Valley Habitat for Humanity, in honor of its 30th anniversary, held Project Playhouse at Fifth Third Field. The event was presented by Owens Corning and Walter E. Terhune Fund of KeyBank. The Lucas County nonprofit partnered with Leadership Toledo and area businesses for a day of building 30 playhouses.
Teams of builders designed, painted, and assembled the playhouses with children's prior input including requests for princesses, dragons, sports, and music.
Anna Toney, of Leadership Toledo, Rob Wiercinski, of the Mud Hens, and Ann Malak, of Owens Corning headed the project with Habitat.
The event raised enough funds to help build an entire Habitat home.
Project Playhouse offers a fun, dynamic, meaningful construction and team building experience day for groups. For information, visit mvhabitat.org.
Habitat for Humanity volunteers assist homeowners to build their own homes and pay a no-interest mortgage. Financial management and home maintenance classes and repair programs for low-income homeowners are also provided. ReStore sells new and gently used building materials, furniture, and appliances to the public.
THE sets, the costumes, and the special effects are all the buzz from patrons who have seen the Wicked tour production at Stranahan Theater. There was so much to see during the lengthy show that time passed quickly. Like many who grew up watching The Wizard of Oz, I caught the references to the classic story, including the Wicked Witch of the West's father being the governor of Emerald City. That sparked my interest since many moons ago I met the man who played the mayor of the Munchkins when I was at Ringling College and visiting the Ringling Circus Museum.
Mgsr. Michael Billian said he has seen other Wicked productions but considered this one among the top for its sets and costumes. Elizabeth Emmert and her husband, John Henzler, also saw other performances of Wicked, a musical about Glinda the Good Witch and Elphaba, the Wicked Witch of the West — you know, the outcast with the green skin — and said they were impressed with this one. There's still time to see it. The production runs through Sunday.
Happy Flag Day!
Barbara Hendel is The Blade's society editor. Contact her at bhendel@theblade.com or call 419-724-6124.
Guidelines: Please keep your comments smart and civil. Don't attack other readers personally, and keep your language decent. Comments that violate these standards, or our privacy statement or visitor's agreement, are subject to being removed and commenters are subject to being banned. To post comments, you must be a registered user on toledoblade.com. To find out more, please visit the FAQ.