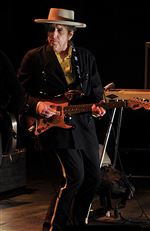 Bob Dylan performs in Beijing. The 69-year-old American legend was expected to meet resistance from Chinese censors considering his association with U.S. protest movements in the 1960s, but did not.
ASSOCIATED PRESS Enlarge
BEIJING — "Something is happening here, but you don't know what it is, do you Mr. Jones?" creaked Bob Dylan's defiant wreckage of a voice during a blistering rendition of "Ballad of a Thin Man," near the conclusion of his historic first-ever concert in China.
Let the Bob Dylan interpretion game, the 2011 Chinese version, commence.
Just who is the Mr. Jones that Dylan indicted in his snarling vocals at the 7,000-seat Beijing Workers Gymnasium?
When Dylan penned the song in 1965, it was clear Mr. Jones was the mainstream media, who seemed about 200 years behind the curve of what Dylan was doing right in front of their faces (namely blending folk and rock music, and infusing it was touches of modernist poetry, social commentary, and ribald humor).
But in Communist China, during the biggest rock concert in its history, Mr. Jones has to take on a more relevant meaning. Was Mr. Jones the Chinese government, oblivious to the rising tide of discontent among its youth, peasants, and intellectuals?
Maybe Mr. Jones was actually the American power structure, equally oblivious to the immediate threat that China poses to our hegemony.
Perhaps Mr. Jones was the crowd that gathered Wednesday night in the heart of the world's largest Communist country, a crowd that appeared bewildered during parts of the show, not quite knowing how to react to the uniquely American spectacle in front of them.
The concert scene was at turns so mystifying, beautiful, confusing, goofy, and touching that we're better off not attempting to delve into every "smoke ring" of Dylan's mind.
Dylan, one month shy of 70, performed 17 songs at the near-ly sold-out arena. The venue was the site of the Olympic Judo matches in 2008, and reminded me of the dearly departed Toledo Sports Arena, but on steroids.
The edifice incorporated all the charm we love from 1970s East German architecture, the cleanliness of a gas station bathroom, and the acoustics of a dilapidated New York City phone booth. Of the 50 or so Dylan concerts I've attended since 1993, this was easily the worst sound mix I've heard.
Several hours before the show, in the courtyard leading to the arena, there was a sight that I can guarantee has never been seen outside a Dylan show, or any rock concert in the history of rock and roll for that matter.
Underneath a giant, 15-foot-by-50 foot banner plastered to the stadium announcing Dylan's arrival, young Chinese army cadets were drilled mercilessly by their commander.
Then within 30 feet of the intense military drilling, directly in front of the main entrance to the Dylan concert, was a collection of several dozen elderly Chinese women calmly practicing the ancient Chinese meditative art of tai chi.
While these diametrically opposed exercises were going on within a stone's throw of each other, a motley crew began to assemble near the main street in front of the stadium. The eclectic bunch included pirated DVD hawkers, menacing ticket scalpers, carnival barker types, well-dressed expats, and Chinese beatniks.
The crowd, about three quarters Chinese and the rest a mix of Europeans and Americans, filtered into the gymnasium, and unlike a typical American concert crowd, was quietly seated 10 minutes before showtime.
Positioned in front of me was Zhang Hao, 24, an architecture student, who became a Dylan fan two years ago after listening to "Like a Rolling Stone" at a friend's birthday party. "In his songs, he knows who he is . . .this is what I am fond of, this is why I am here" said Hao, just as a super-charged school bell rang to signify the show was about to begin.
Dylan's entrance to the stage was met with polite applause that died down to a mere smattering well before the band broke into the first chords of "Gonna Change Your Way of Thinking," a semi-obscure opening number from Dylan's gospel period.
"Gonna change my way of thinking, make myself a different set of rules. Gonna put my good foot forward, and stop being influenced by fools," growled Dylan while he pounded out some chords on his keyboard to a now-silent crowd, staring almost plaintively at the singer.
The first several songs from Dylan's set concluded with more tepid applause, some nervous giggling, an American occasionally yelling "Play Free Bird," and then silence while the players tuned up for their next effort.
The ice breaker was the harmonica-infused Dylan classic, "Tangled up in Blue," which inspired the first tentative dance steps from the crowd near the stage, and some sustained applause that nearly carried on to the next number.
By the time Dylan rapped the final verse of "A Hard Rain's A-Gonna Fall," about half way into his show, it seemed the Beijing faithful had concluded their crash course on American rock concert decorum.
Was that rhythmic clapping I heard during a spunky version of "Spirit on the Water?"
Did someone just hold up a lighter during the epic chorus of "Like a Rolling Stone?"
As Dylan tenderly warbled the last verse of his closing benediction "Forever Young," I could have been in China or Cleveland. The music, the artist, and the crowd had bridged the divide.
"May you always be courageous, stand upright, and be strong. And may you stay forever young," sang Dylan to the Beijing faithful, the audience now on its feet, with a few brave souls singing along as best they could.
Guidelines: Please keep your comments smart and civil. Don't attack other readers personally, and keep your language decent. Comments that violate these standards, or our privacy statement or visitor's agreement, are subject to being removed and commenters are subject to being banned. To post comments, you must be a registered user on toledoblade.com. To find out more, please visit the FAQ.