COLUMBUS — Garrison Walters agrees that Tom Noe committed crimes.
But in his new self-published book, Coingate: When Law and Fairness Collide, the former interim chancellor of the Ohio Board of Regents suggests Noe should never have faced theft charges or been given an 18-year sentence that still has him behind bars.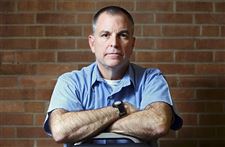 Noe
SHARI LEWIS Enlarge
He argues that errors on the part of the Lucas County prosecutor and judge, overzealous reporting by The Blade, a missing-in-action Ohio Supreme Court, and a tense political climate converged to make Noe "a political prisoner."
"It's entirely clear that a 'nonpolitical Noe,' someone of no prominence and of no interest to the local media and therefore to politicians, would have been treated very differently in the justice system," Mr. Walters wrote.
There's plenty of blame to go around, according to the author, who worked with the former Toledo-area coin dealer and Lucas County Republican Party chairman at the board of regents.
"The reader should walk away with an understanding that the justice system has an enormous amount of discretion built into the early stages and can be seriously warped by political considerations, even if unconsciously," Mr. Walters said in an interview. "I do believe that they all acted honorably, but they should never have been put in the situation they were in."
On Nov. 13, 2006, Noe was convicted of 29 charges, 25 of which were felonies, including a racketeering charge carrying a mandatory 10-year sentence. He was convicted on four misdemeanors related to the theft from a $50 million investment for the state's insurance fund for injured workers made in rare-coin funds he managed.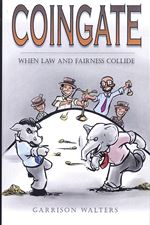 "Coingate When Law and Fairness Collide," by Garrison Walters.
Noe was convicted of taking money from the fund for his personal use, leaving behind records that sometimes masked the moves as transactions of fund assets.
Prior to starting his state sentence, he served two years in federal prison for using local conduits to launder illegal campaign contributions to the 2004 re-election campaign of President George W. Bush.
The 264-page book reads as part opinion piece and part academic thesis, looking at a justice system gone wrong with Noe as its case study.
But Mr. Walters argues in his book that, while certainly guilty of tampering with records and possibly forgery and tax fraud, Noe could not be guilty of theft. The Bureau of Workers' Compensation had purchased shares in what were essentially hedge funds and did not directly own the coins in those funds, he said.
Noe's contract allowed his private coin-dealing business to do trades and sell coins with the investment funds and to take loans and advances against profits. The problem, he suggests, came when the state prematurely shut down the funds, exposing Noe IOUs where assets should have been. Mr. Walters said he has no reason to believe Noe lacked the financial wherewithal to make good on those debts.
The book also contends the judge and prosecutor left the jury with the impression that the investments lost money when they made a profit of about $6 million. In hindsight, he agrees the BWC could make the argument it was entitled to that profit plus the value of the IOUs Noe left behind, but he said that wasn't the argument the prosecution made.
He said it would have been difficult to convince a criminal jury that a theft occurred when the BWC made money. Complicating matters was an early statement from Noe's attorney conceding about $13 million in assets were missing, something he said prosecutors and the press misinterpreted as an admission of theft.
'Ridiculous'
Lucas County Prosecutor Julia Bates, whose office tried the case, said the idea that theft charges should have been left off the table was "ridiculous."
"The profits could have tripled or quadrupled, but he still took money," she said. "He still used it for his own benefit."
Mr. Walters argues that she and then Common Pleas Judge Thomas Osowik, who presided over the case, should have recused themselves, suggesting that, as elected Democrats, they were afraid of The Blade and at political odds with Noe.
Ms. Bates' husband was supervising judge on the court where the trial was held and her stepdaughter and son-in-law worked at The Blade at the time, although not on the Coingate investigative team.
"I was the only Democrat in the whole circle of this case," Ms. Bates said. "The U.S. attorney was a Republican. The [state] attorney general was a Republican. The state auditor, Betty Montgomery, was a Republican. Tom Charles, the inspector general, was a Republican. [Franklin County Prosecutor] Ron O'Brien was a Republican.
"What should I have done when [Noe] was a big political fund-raiser?" she asked. "You could make the argument that it would be better for the Democrat to do it so there could be no claims of sweetheart deals."
Noe turned down a plea bargain that would have meant a 10-year sentence. Mr. Walters said Noe would have considered a plea but would not admit guilt to theft and racketeering.
No difference
Mr. O'Brien said he didn't think the outcome would have been different if the case had been tried in Franklin County, the BWC headquarters.
"I thought that the use of the Noe task force with Tom Charles, Julie, and the federal prosecutor — to this minute, with the exception of this guy — insulated it from charges of political favoritism or persecution. It just didn't happen," he said.
John Weglian, who prosecuted the case on behalf of Ms. Bates' office, said the author apparently believed everything Noe told him.
"Interestingly, I get the impression from his book that he thinks Noe should have 'fessed up to falsifying documents and then everything would have been all right because the documents would have been accurate," he said.
"That's probably true," Mr. Weglian said. "If Noe had told the BWC that he borrowed $1.6 million out of the first $25 million presented to him, then it would have been up to the BWC to say 'I'm out of this.' But he didn't do that."
Fair trial?
The book suggests Judge Osowik, now on the 6th District Court of Appeals, should have recused himself because of an ethics complaint filed against him by Noe, although the judge said he doesn't recall such a complaint beyond one leveled against all the judges on the bench.
The book also criticizes the judge's decision not to move the trial elsewhere.
"I was surprised by the number of people who didn't read the newspaper or watch any TV news of any kind," Judge Osowik said. "Some had no recollection of who he was. Some did express themselves at the outset [that they had opinions] and weren't allowed to be interviewed."
He said Noe received "as fair a jury as you could get."
The book contends Noe was caught between a Democratic Party eager to score political points and a scared Republican Party eager to distance itself from him.
"This was a situation in which unconscious bias combined with political expediency to create a situation that simply shouldn't have occurred," Mr. Walters said. "I don't know that, if it were a nonpolitical Noe, there would have been a search warrant and a raid [of Noe's business office]."
Noe's convictions and sentence have been upheld at every state and federal appeals level. He has served about half of his 18-year sentence and was recently transferred from the Hocking Correctional Institution in southern Ohio to the Marion Correctional Institution. Both are medium-security facilities.
Jo Ellen Smith, spokesman for the Ohio Department of Rehabilitation and Correction, said Noe was moved after another Hocking inmate escaped last year.
The department decided Hocking was no longer appropriate for inmates serving longer sentences.
Noe has not committed any disciplinary infractions while incarcerated.
Social friend
Mr. Walters' past books have been on Eastern European history, an Essential Guide to Computing, and fiction thrillers. The former Republican said he is now a registered Democrat.
He spent 22 years at the regents, much of that time as vice chancellor for academic affairs. He later served as executive director of the South Carolina Commission on Higher Education.
Now retired, Mr. Walters splits his time between Virginia and South Carolina.
Although he stayed overnight at Noe's Toledo-area home once for business convenience, Mr. Walters said he didn't consider Noe to be a social friend until he interviewed him.
Beyond recommending someone to do the cover artwork, Noe contributed nothing else to its publication.
Current Republican Gov. John Kasich rejected Noe's first petition for clemency in 2015. No petition is pending.
"The fact that he not only went to prison but is still there is the result of a purely political situation," the book reads. "Noe did mislead the state about his investments, but the state in turn actively misled the public and the jury in order to get a conviction and harsh sentence. Noe should be released as soon as possible."
Contact Jim Provance at jprovance@theblade.com or 614-221-0496.
Guidelines: Please keep your comments smart and civil. Don't attack other readers personally, and keep your language decent. Comments that violate these standards, or our privacy statement or visitor's agreement, are subject to being removed and commenters are subject to being banned. To post comments, you must be a registered user on toledoblade.com. To find out more, please visit the FAQ.