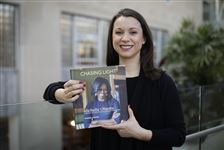 Former White House photographer Amanda Lucidon with her book, 'Chasing Light: Michelle Obama Through the Lens of a White House Photographer,' at the Main Branch of the Toledo Lucas County Public Library.
The Blade/Andy Morrison
Enlarge | Buy This Image
For four years, Amanda Lucidon witnessed firsthand the life of former First Lady Michelle Obama. She served as a White House photographer from 2013 to 2017 and was responsible for capturing photos of Mrs. Obama.
On Wednesday evening, hundreds of people packed inside the McMaster Family Center in the Toledo Lucas County Public Library to hear Ms. Lucidon discuss her journey of becoming a White House photographer and share an insider perspective on her time with Mrs. Obama.
Ms. Lucidon's photo exhibit — "Chasing Light: Michelle Obama Through the Lens of a White House Photographer," named after her book — has been showcased at the library since the beginning of February. The exhibition is composed of 10 photographs from her recently published book, a compilation of 150 candid photos.
VIDEO: White House photographer Amanda Lucidon
The photos provide an intimate glimpse into Mrs. Obama's life at the White House and trips taken domestically and abroad.
During her discussion with WGTE's radio personality Haley Taylor, Ms. Lucidon shared details about her first time boarding Air Force One and seeing her name card on her window seat and her experience of meeting Mrs. Obama for the first time.
"I'm really thinking, 'Oh my gosh, you are way taller than I thought,'" she said, as the audience erupted in laughter.
The audience clung to her every word as she shared her experience of shooting photos of the first lady. She even discussed her experience of waiting for her job interview while in the East Reception Room in the White House with a Secret Service agent guarding the door.
The crowd "oohed" and "aahed" as photos flashed on the screen in the auditorium. There were photos of Mrs. Obama spending time with high school students, a picture of Mrs. Obama meeting with her staff on an airplane, and a personal photo of her and Barack Obama.
While working at the White House, Ms. Lucidon said she felt the responsibility of creating a historical record of photos that would last forever.
"I was there to document those important moments in history but also those personal moments, those intimate, candid moments," she said.
Contact Javonte Anderson at janderson@theblade.com, 419-724-6065, or on Twitter @JavonteA.
Guidelines: Please keep your comments smart and civil. Don't attack other readers personally, and keep your language decent. Comments that violate these standards, or our privacy statement or visitor's agreement, are subject to being removed and commenters are subject to being banned. To post comments, you must be a registered user on toledoblade.com. To find out more, please visit the FAQ.